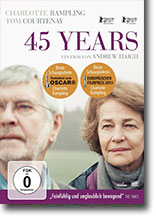 As their 45th wedding anniversary approaches, a woman (Charlotte Rampling) learns that her husband (Tom Courtenay) was once engaged to someone else. This film starts off with a random morning routine in the lives of Kate Mercer and her husband, Geoff, both retired and childless. After Kate walks in from walking their dog, they get ready to eat breakfast when Geoff opens a letter that Kate just brought in from the mailbox outside.
They live in the English countryside but this letter comes from Switzerland. He stops and stares at it, and Kate asks him what it is. He says, in a very low voice : "They found her." Kate immediately knows who he's referring to. It's Katya, Geoff's girlfriend from before he met Kate. This letter sets off a firestorm of emotions in both Kate and Geoff that threatens to change their lives forever.
Kate is in the last stages of planning her and Geoff's 45th wedding anniversary party. We learn soon enough that they had planned to throw a party when their 40th anniversary rolled along, but Geoff got sick and those plans were shelved. The events that transpire after this letter is received might change all that.
At first Kate wants to know the details of what happened to Katya (who had disappeared many years before when she and Geoff went out hiking in some glaciers in Switzerland. She was found (exactly how, we never know) deep in the ice, apparently preserved enough to positively identify her. Geoff seems to feel jealous of her, because she still looks young, while he looks "like this". It doesn't seem to occur to him that she has been dead for over 50 years while has lived a full life since then.
When Kate presses Geoff for answers, he confesses that he is still listed as Katya's next of kin, because he never changed the records. This really hits Kate hard, and she begins, to her own amazement, to feel jealous of this woman whom she never knew but who seems to have a solid grip on her husband after all these years.
A few times in the film, Geoff slips and refers to her as "my Katya", which seems like a slap in the face to Kate. Both Kate and Geoff fall into a kind of funk, and they slowly stop communicating with each other. Geoff starts smoking again, while Kate becomes more and more sullen. During a particularly stressful bedtime conversation, she tells Geoff that she no longer wants to talk about Katya at all. This is when she starts to shut off.
Director: Andrew Haigh
Year of Release: 2016

Character to watch: Charlotte Rampling as Kate Mercer.
Journal your answers to the following questions after you watch the movie.
How does this particular character's journey compare with yours?
Did the character develop certain characteristics during the movie that you have or that you would like to have? If so, what are those characteristics?
What obstacles did this character face? What was his or her biggest challenge?
What would you have done differently if you had been in the same position as the character?
Is this character the type of person you would be friends with? Why or why not?