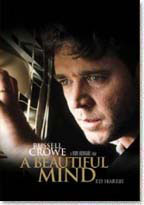 A biopic of the meteoric rise of John Forbes Nash Jr. (Russell Crowe), a math prodigy able to solve problems that baffled the greatest of minds. The movie depicts how he overcame years of suffering through schizophrenia to win the Nobel Prize. From the heights of notoriety to the depths of depravity, John Forbes Nash, Jr. experienced it all.
A mathematical genius, Forbes made an astonishing discovery early in his career and stood on the brink of international acclaim. But the handsome and arrogant Nash soon found himself on a painful and harrowing journey of self-discovery.
Meanwhile a student, Alicia Larde (Jennifer Connelly), asks him to dinner, and the two fall in love. On a return visit to Princeton, Nash runs into Charles and meets Charles' young niece Marcee (Vivien Cardone), whom he adores. With Charles' encouragement he proposes to Alicia and they marry.
While delivering a guest lecture at Harvard University, Nash becomes paranoid and attempts to flee from what appear to be foreign agents, led by Dr. Rosen (Christopher Plummer). After punching Rosen in an attempt to flee, Nash is forcibly sedated and sent to a psychiatric facility he believes the facility is run by the Soviets.
Dr. Rosen tells Alicia that Nash has schizophrenia. Nash is given a course of insulin shock therapy and eventually released. Frustrated with the side-effects of the antipsychotic medication he is taking, he secretly stops taking it.
Director: Ron Howard
Year of Release: 2001

Character to watch: Russell Crowe as John Nash.
Journal your answers to the following questions after you watch the movie.
How does this particular character's journey compare with yours?
Did the character develop certain characteristics during the movie that you have or that you would like to have? If so, what are those characteristics?
What obstacles did this character face? What was his or her biggest challenge?
What would you have done differently if you had been in the same position as the character?
Is this character the type of person you would be friends with? Why or why not?