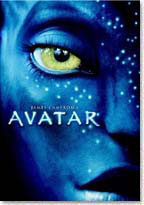 By 2154, humans have severely depleted Earth's natural resources. The Resources Development Administration (RDA) mines for a valuable mineral – unobtanium – on Pandora, a densely forested habitable moon orbiting the gas giant Polyphemus in the Alpha Centauri star system. Pandora, whose atmosphere is poisonous to humans, is inhabited by the Na'vi, 10-foot tall (3.0 m), blue-skinned, sapient humanoids who live in harmony with nature and worship a mother goddess called Eywa.
To explore Pandora's biosphere, scientists use Na'vi-human hybrids called "avatars", operated by genetically matched humans; Jake Sully (Sam Worthington), a paraplegic former marine, replaces his deceased twin brother as an operator of one. Dr. Grace Augustine (Sigourney Weaver), head of the Avatar Program, considers Sully an inadequate replacement but accepts his assignment as a bodyguard.
While protecting the avatars of Grace and scientist Norm Spellman (Joel David Moore) as they collect biological data, Jake's avatar is attacked by a thanator and flees into the forest, where he is rescued by Neytiri (Zoe Saldana), a female Na'vi.
Witnessing an auspicious portent, she takes him to her clan, whereupon Neytiri's mother Mo'at (C. C. H. Pounder), the clan's spiritual leader, orders her daughter to initiate Jake into their society.
Director: James Cameron
Year of Release: 2009

Character to watch: Sam Worthington as Jake Sully.
Journal your answers to the following questions after you watch the movie.
How does this particular character's journey compare with yours?
Did the character develop certain characteristics during the movie that you have or that you would like to have? If so, what are those characteristics?
What obstacles did this character face? What was his or her biggest challenge?
What would you have done differently if you had been in the same position as the character?
Is this character the type of person you would be friends with? Why or why not?