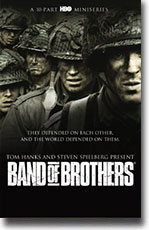 That modesty and that sentiment seems to be shared by all the survivors of Easy Company, 506th PRI, and many of them can't hold back the tears as they mumble it. One of the great benefits of this marvelous series was the closeup interviews of the real men portrayed, those wonderful old seamed faces, breaking at last with emotion as they recall their experiences and the love of their comrades and the pain of loss of other friends. It moves me greatly, and I'm glad the Extras in this set has an extended documentary re-tracing the time-frame of the film with these real veterans recalling the action we've seen re-created.
Brought with loving care and fanatic attention to detail by producers Steven Spielberg & Tom Hanks and their carefully chosen band of producers, directors and actors, this is an unsentimental, near-documentary telling of the story of Easy Co. from training to D-Day, Hedge Row fighting, Operation Market Garden, Bastogne, into Germany, liberation of Death Camps, and the capture of Berchesgarden & Hitler's Eagle's Nest.
Throughout it all, the aim has been to tell it straight and get it right. They have done so in remarkable style. The truth HAS enough drama, and the various episodes reveal it. We get to know these men and care about them. We marvel at their endurance and the way they go about getting the job done, professionally, and with matter-of-fact, everyday courage. It is a true tribute to the Citizen Soldiers who won the war.
With 10 episodes and lots of extra goodies, presented within an exceptional package, there is just too much to review here. Some memorable moments: the harrowing jump into the explosive, tracer-lit night skies of Normandy; the assault on the 88's; Winter's killing the young German; the episode dedicated to the Medic; the monstrous artillery barrage on the men in the snowy forest of Bastogne; the shock of the farmer's wife on seeing the closeup hand-to-hand killing of the German by "Bull"; and finally, the incredibly moving scenes of the liberation of the Concentration Camp, and the final days of Easy at the War's end.

Character to watch: Scott Grimes as Donald G. Malarkey.
Journal your answers to the following questions after you watch the series.
How does this particular character's journey compare with yours?
Did the character develop certain characteristics during the movie that you have or that you would like to have? If so, what are those characteristics?
What obstacles did this character face? What was his or her biggest challenge?
What would you have done differently if you had been in the same position as the character?
Is this character the type of person you would be friends with? Why or why not?