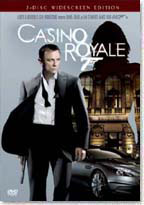 Armed with a licence to kill, Secret Agent James Bond (Daniel Craig) sets out on his first mission as 007 and must defeat a weapons dealer in a high stakes game of poker at Casino Royale, but things are not what they seem. Bond is up agfainst Le Chiffre (Mads Mikkelsen), a banker to the world's terrorists. He is participating in a poker game at Montenegro, where he must win back his money, in order to stay safe among the terrorist market.
The boss of MI6, known simply as M (Judi Dench), sends Bond, along with Vesper Lynd (Eva Green) to attend this game and prevent Le Chiffre from winning. Bond, using help from Felix Leiter (Jeffrey Wright) and Mathis (Giancarlo Giannini) and having Vesper pose as his wife, enters the most important poker game in his already dangerous career. But if Bond defeats Le Chiffre, will he and Vesper Lynd remain safe?
Bond really comes across as a rogue agent in Casino Royale, stealing his way into M's apartment to leave her coded messages, taking risks that threaten painstaking operations and getting himself into jams that require MI6 to bail him out. This is a young impetuous Bond, overanxious and thrilling to watch as Craig fills his role with the energy of a stage actor.
There is also one of the best villains in recent years with Mads Mikkelsen as the cold blooded Le Chiffre. He heads an international cartel not so much bent on world destruction as on taking advantage of the chaos in which we live. He is a much more believable villain than Spectre and relies on much simpler methods of getting his piece of flesh from someone.
Director: Martin Campbell
Year of Release: 2006

Character to watch: Daniel Craig as James Bond.
Journal your answers to the following questions after you watch the movie.
How does this particular character's journey compare with yours?
Did the character develop certain characteristics during the movie that you have or that you would like to have? If so, what are those characteristics?
What obstacles did this character face? What was his or her biggest challenge?
What would you have done differently if you had been in the same position as the character?
Is this character the type of person you would be friends with? Why or why not?