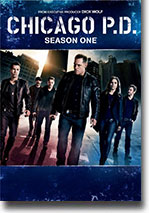 First introduced in Chicago Fire as a dirty cop bent on destroying Lt. Matthew Casey's (Jesse Spencer) life, Sgt. Hank Voight (Jason Beghe) is back at District 21. For reasons unclear to even their chief, Voight has made arrangements with mysterious high-powered persons, releasing him from prison in order to head an Intelligence Unit that is meant to capture some of Chicago's biggest criminals.
On Voight's team of detectives are Alvin Olinsky (Elias Koteas), a veteran who goes back to the old days with Voight; Antonio Dawson (Jon Seda), a good cop first introduced as paramedic Gabby Dawson's brother on Chicago Fire; Jay Halstead (Jesse Lee Soffer), a former Army Ranger who has trouble deciding if Voight is a man to emulate or fear; Adam Ruzek (Patrick John Flueger), a recent police academy recruit whose overzealousness for the work often gets him into trouble with Olinsky; and Erin Lindsay (Sophia Bush), a mysterious young woman who clearly shares a personal relationship with Voight, although it's anyone's guess as to what kind or why.
Rounding out the cast are computer whiz Sheldon Jin (Archie Kao); sarcastic desk Sgt. Platt (Amy Morton); and rookie street cops Kevin Atwater (LaRoyce Hawkins) and Kim Burgess (Marina Squerciati).
While the series focuses – of course – on fighting crime, particularly the types of deep-rooted crimes that require undercover to derail, such as drug dens, serial killers and rapists, and counterfeit, it isn't all dark and depressing. The trio of Platt, Atwater and Burgess is always guaranteed to provide a few moments of levity, as the veteran sergeant attempts to test the rookies.

Character to watch: Jason Beghe as Sgt. Hank Voight.
Journal your answers to the following questions after you watch the series.
How does this particular character's journey compare with yours?
Did the character develop certain characteristics during the movie that you have or that you would like to have? If so, what are those characteristics?
What obstacles did this character face? What was his or her biggest challenge?
What would you have done differently if you had been in the same position as the character?
Is this character the type of person you would be friends with? Why or why not?