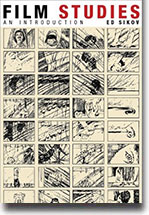 Ed Sikov builds a step-by-step curriculum for the appreciation of all types of narrative cinema, detailing the essential elements of film form and systematically training the spectator to be an active reader and critic. Sikov primes the eye and mind in the special techniques of film analysis.
His description of mise-en-scene helps readers grasp the significance of montage, which in turn reveals the importance of a director's use of camera movement. He treats a number of fundamental factors in filmmaking, including editing, composition, lighting, the use of color and sound, and narrative.
Film Studies works with any screening list and can be used within courses on film history, film theory, or popular culture. Straightforward explanations of core critical concepts, practical advice, and suggested assignments on particular technical, visual, and aesthetic aspects further anchor the reader's understanding of the formal language and anatomy of film.
Sikov breaks down film studies for the lay man; his writing is clear, organized, and easy to follow. Vocab words are capitalized for the reader's ease; their definitions are always italicized. It makes them easy to find. There's also big margins on the side of the text for note taking. This is a great book, would definitely recommend if you want an easy to follow introduction to film-making.
A wonderful introductory text. Sikov's Film Studies: An Introduction discusses film form in very clear and thoughtful ways while emphasizing the thematic and intellectual value of form, making an 'academic' topic deeper and more humane. Very highly recommended.
Author: Ed Sikov