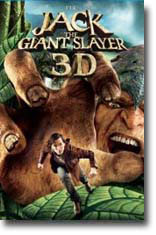 The traditional fairy tale has been folded and spindled by Hollywood so often that it can be hard to remember what made the stories so beloved in the first place. Jack the Giant Slayer chooses to find its wit and humor within the myth, rather than awkwardly shoehorning in pop culture references. While some of the action may be a bit too violent for younger kids, the majority of viewers should find it as difficult to resist as a good bedtime story.
Director Bryan Singer and his writers keep the basic beats of the tale intact: farm boy Jack (Nicholas Hoult) gets magic seeds, climbs resulting beanstalk, a truly special effect that looks exactly like you'd think it should, and rescues princess (Eleanor Tomlinson) from angry big dudes. Meanwhile, the additions that are made to flesh out the narrative, most notably Ewan McGregor as a cocky Han Soloish knight, enhance rather than detract from the overall dreamy pull.
As for the giants, they're a winningly gross bunch, with exaggerated characteristics that recall both ancient woodcuts and ancient editions of Mad magazine. Of special interest here are Bill Nighy and John Kassir, whose vocal talents combine to make a fantastically weird head bad guy.
Jack's final act is a battle sequence that calls down the ear-punishing thunder and threatens to dissolve into a blur of action. The story's basic charm ultimately wins out, however, thanks to the filmmakers always keeping in mind the value of a good tale well told. The moral of the story; squareness can be a virtue, sometimes.
Director:  Bryan Singer
Year of Release: 2013

Character to watch: Nicholas Hoult as Jack.
Journal your answers to the following questions after you watch the movie.
How does this particular character's journey compare with yours?
Did the character develop certain characteristics during the movie that you have or that you would like to have? If so, what are those characteristics?
What obstacles did this character face? What was his or her biggest challenge?
What would you have done differently if you had been in the same position as the character?
Is this character the type of person you would be friends with? Why or why not?