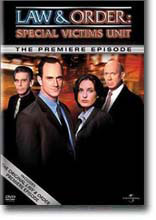 Originally called Sex Crimes, executive producer Dick Wolf wisely opted for something less lurid when the second in the inexhaustible Law & Order franchise hit the air in 1999. Still, as the opening voiceover makes clear, the "sexually based offenses" investigated by New York's Special Victims Unit can be "especially heinous." Wolf penned series premier "Payback," which sets the scene, but not the tone.It's a lively, if uneasy mix between horror (rape) and comedy (risqué banter).
As the first season progressed, humor would be written out altogether (leaving Richard Belzer's Homicide-derived John Munch with increasingly less to do), and less emphasis would be placed on the home lives of this "elite squad of dedicated detectives." Mostly, "Payback" introduces us to the unit, centering around partners
Olivia Benton (Mariska Hargitay) and Elliot Stabler (Christopher Meloni). For two people with so little in common, they make a terrific team–arguably one of TV's best. Stabler is married with four children; Benton is single and her closest relationship is with her mother (Elizabeth Ashley).
While Stabler can get a little rough with suspects, Benton tends to over-empathize with the victims. They report to the no-nonsense Captain Cragen (Dann Florek). Like the parent program's Lenny Briscoe, he's a recovering alcoholic. Dean Winters and Michelle Hurd round out the rock-solid cast.

Character to watch: Mariska Hargitay as Olivia Benton.
Journal your answers to the following questions after you watch the series.
How does this particular character's journey compare with yours?
Did the character develop certain characteristics during the movie that you have or that you would like to have? If so, what are those characteristics?
What obstacles did this character face? What was his or her biggest challenge?
What would you have done differently if you had been in the same position as the character?
Is this character the type of person you would be friends with? Why or why not?