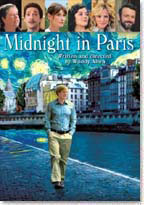 Gil Pender (Owen Wilson), a successful but creatively unfulfilled Hollywood screenwriter, and his fiancée, Inez (Rachel McAdams), are in Paris, vacationing with Inez's wealthy, conservative parents. Gil is struggling to finish his first novel, centered around a man who works in a nostalgia shop, but Inez dismisses his ambition as a romantic daydream and encourages him to stick with the more lucrative screenwriting.
While Gil is considering moving to Paris (which he notes, much to the dismay of his fiancée, is at its most beautiful in the rain), Inez is intent on living in Malibu. By chance, they are joined by Inez's friend Paul (Michael Sheen), a pedantic pseudo-intellectual who speaks with great authority but questionable accuracy on the history and art of the city.
This is best revealed when he pontificates on a Picasso which Gil had seen the night before and discourses on the exact meaning of the painting – much to the disgust of the admiring group. Inez admires him, but Gil finds him insufferable. One night, Gil gets drunk and becomes lost in the back streets of Paris.
At midnight, a 1920s Peugeot Type 176 car draws up beside him, and the passengers—dressed in 1920s clothing—urge him to join them. They go to a party for Jean Cocteau where Gil comes to realize that he has been transported back to the 1920s, an era he idolizes.
He encounters Alice B. Toklas, Cole Porter, Josephine Baker, Zelda and F. Scott Fitzgerald, who take him to meet Ernest Hemingway. Hemingway agrees to show Gil's novel to Gertrude Stein, and Gil goes to fetch his manuscript from his hotel. However, as soon as he leaves, he finds he has returned to 2010 and the bar has disappeared. Things just get crazier from here.
Director: Woody Allen
Year of Release: 2011

Character to watch: Owen Wilson as Gil Pender.
Journal your answers to the following questions after you watch the movie.
How does this particular character's journey compare with yours?
Did the character develop certain characteristics during the movie that you have or that you would like to have? If so, what are those characteristics?
What obstacles did this character face? What was his or her biggest challenge?
What would you have done differently if you had been in the same position as the character?
Is this character the type of person you would be friends with? Why or why not?