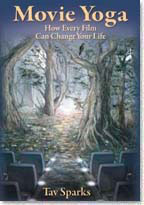 Want to be in the movies? You already are! Read Movie Yoga and become a Movie Yogi! Movie Yoga shows you how to turn on your inner Awareness Positioning System™ (APS). While you watch movies and munch popcorn, you can connect the dots between your own life and what's up on the screen. Sparks describes the epic territory common to all genres of film action, romance, horror, or mystery.
Once you know how to look for it, you will discover your own life by watching it play out in film, frame by frame. Sparks inspires us with examples from his favorite movies and writes his descriptions with the beauty, power, and surprising force of the film clips themselves. You will never look at movies in the same way again.
Movie Yoga will take you on a holographic journey to the center of yourself as it invites you to ponder, What does my reaction to that movie reveal about me? Tav's warm, passionate, personal style will move you out of thinking about it and into the experience of what he's saying.
Drawing from a vast library of films that Tav has experienced, he demonstrates how every movie he has ever watched, good and bad alike, has transformed him in some way, and then he offers a technique that you can use to do the same to walk out of the theatre, at the end of any movie, a deeper, bigger person than when you walked in. This is a book that would make anyone appreciate the work of Hollywood.
About the Author: Tav Sparks is an author, international workshop leader, and owner and Director of Grof Transpersonal Training, a program which offers certification in Holotropic Breathwork™. He lives in Mill Valley, California, with his wife, Cary, and son, Bryn. His son, Ason, and his grandsons, Dallin and Kellin, live in Georgia.
Author: Tav Sparks
Year of Release: 2009