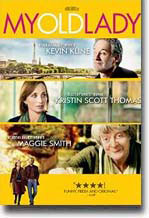 Kevin Kline, Maggie Smith and Kristin Scott Thomas star in this witty and heartfelt drama about surprising inheritances and unexpected connections. When Mathias Gold (Kline) arrives at the sumptuous Parisian apartment he inherited from his father, he's surprised that the property comes with two stubborn live-in tenants who are not required to leave according to an ancient French real estate law.
Unable to sell the place, Mathias moves in with the feisty Englishwoman, Mathilde (Maggie Smith), and her daughter, Chloé (Kristin Scott Thomas). But as Mathias and Chloé draw increasingly closer, Mathilde unveils a complex labyrinth of secrets that unites the trio in unexpected ways.
The always wonderful Kline is a failed writer who flies from NYC to Paris when his estranged father dies and leaves him a gorgeously located 4,000 SF Parisian apartment worth millions of Euros. His anticipated sale of this flat will replace Kline's middleaged poverty with instant windfall wealth that will make him a wealthy man for the rest of his life– as well as redeem the memory of an estranged father who never seemed to love him while alive.
But to Kline's surprise and shock, the flat's real estate title turns out to be a 'Viager', a once-common French occupancy-for-life arrangement in which 92-year-old Englishwoman Maggie Smith is entitled to continue living undisturbed in the flat for the rest of her life; only when she dies will Kline actually inherit and move in.
In the meantime, the penniless Kline has 'inherited' only his late father's ongoing obligation to continue paying the grasping and mercenary Smith 2,400 Euros every month for as long as she lives. Worse, also living in the apartment is Smith's insufferable middle aged daughter Chloe, a shrewish harridan who secretly rifles through Kline's wallet and luggage, refuses to recognize his property rights and generally makes herself unpleasant, impossible and in-your-face intolerable.
The plot twists and revelations here aren't especially surprising, but they are well acted. Kline discovers that Smith was, in her youth, his estranged father's Other Woman, although married herself at the time to Chloe's father (now deceased). The unfortunate 'viager' lifetime apartment deal was actually his father's mechanism for providing for Smith's lifelong financial security– which we suspect the younger Smith may have extorted via blackmail. Meanwhile, middleaged daughter Chloe has been having an affair with a very married man, and Kline attempts some blackmail of his own.
Director: Israel Horovitz
Year of Release: 2015

Character to watch: Maggie Smith as Mathilde.
Journal your answers to the following questions after you watch the movie.
How does this particular character's journey compare with yours?
Did the character develop certain characteristics during the movie that you have or that you would like to have? If so, what are those characteristics?
What obstacles did this character face? What was his or her biggest challenge?
What would you have done differently if you had been in the same position as the character?
Is this character the type of person you would be friends with? Why or why not?