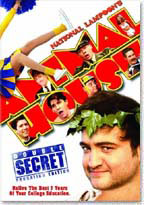 In 1962, college freshmen Lawrence "Larry" Kroger (Tom Hulce) and Kent Dorfman (Stephen Furst) seek to join a fraternity at Faber College. They visit the prestigious Omega Theta Pi House's invitational party, but are not welcomed there. They then try next door at Delta Tau Chi House, where Kent's brother was once a member, making Kent a legacy.
There they find John "Bluto" Blutarsky (John Belushi) urinating outside the fraternity house. The Deltas "need the dues" so they permit Larry and Kent to pledge. They receive the fraternity names "Pinto" (Larry) and "Flounder" (Kent).
Vernon Wormer (John Vernon), dean of Faber College, wants to remove the Delta fraternity from campus due to repeated conduct violations and low academic standing. Since they are already on probation, he puts the Deltas on something he calls "double secret probation" and orders the clean-cut, smug Omega president Greg Marmalard (James Daughton) to find a way to get rid of the Deltas permanently.
Flounder is bullied by Omega member and ROTC cadet commander Doug Neidermeyer (Mark Metcalf), so Bluto and Daniel Simpson "D-Day" Day (Bruce McGill) persuade Flounder to sneak Neidermeyer's horse into Dean Wormer's office late at night. They give him a gun and tell him to shoot it. Unbeknownst to Flounder, the gun is loaded with blanks. Unable to bring himself to kill the horse, he fires into the ceiling. The noise frightens the horse so much that it dies of a heart attack.
In the cafeteria the next day, smooth-talking Eric "Otter" Stratton (Tim Matheson) tries to convince the stuck-up Mandy Pepperidge (Mary Louise Weller) to abandon her boyfriend, the uninteresting Marmalard, and date him instead. Bluto proceeds to provoke Marmalard with his impression of a popping zit by stuffing his mouth with a scoop of mashed potatoes and propelling it at Marmalard and table mates, Chip Diller (Kevin Bacon) and Barbara "Babs" Jansen (Martha Smith). Bluto then starts a food fight that engulfs the cafeteria.
Director: John Landis
Year of Release: 1991

Character to watch: John Belushi as John Blutarsky.
Journal your answers to the following questions after you watch the movie.
How does this particular character's journey compare with yours?
Did the character develop certain characteristics during the movie that you have or that you would like to have? If so, what are those characteristics?
What obstacles did this character face? What was his or her biggest challenge?
What would you have done differently if you had been in the same position as the character?
Is this character the type of person you would be friends with? Why or why not?