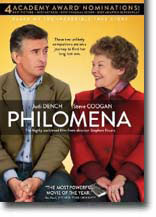 When former journalist Martin Sixsmith (Steve Coogan) is dismissed from the Labour Party in disgrace, he is at a loss as to what do. That changes when a young Irish woman approaches him about a story of her mother, Philomena Lee (Judy Dench), who had her son taken away when she was a teenage inmate of a Catholic convent.
Martin arranges a magazine assignment about her search for him that eventually leads to America. Along the way, Martin and Philomena discover as much about each other as about her son's fate. Furthermore, both find their basic beliefs challenged.
The plot begins with Philomena, a retired Irish woman living in England with her grown daughter, staring at a small old photograph of a little boy about 3 years old. When her daughter, Jane (Anna Maxwell Martin), asks, Philomena reveals a secret she's kept all her adult life – that when she was a young girl in Ireland she had a son out of wedlock that she was forced, very much against her will, to give up for adoption.
The details of her story are revealed in flashbacks in which we see young Philomena (Sophie Kennedy Clark) held in one of Ireland's now infamous Magdalene Asylums, institutions run by various orders of nuns where many young Irish girls of the time were sent for getting pregnant (as well as any number of other "improprieties" such as engaging in prostitution, being promiscuous or sometimes just for flirting), becoming virtual prisoners – and slave labor – beyond the reach of the secular law and with no hope of appeal. She has been haunted by this her entire life, always wondering what became of her little boy, and finding her every attempt to find out thwarted by the implacable bureaucracy of the Irish church.
Director: Stephen Frears
Year of Release: 2013

Character to watch: Judy Dench as Philomena.
Journal your answers to the following questions after you watch the movie.
How does this particular character's journey compare with yours?
Did the character develop certain characteristics during the movie that you have or that you would like to have? If so, what are those characteristics?
What obstacles did this character face? What was his or her biggest challenge?
What would you have done differently if you had been in the same position as the character?
Is this character the type of person you would be friends with? Why or why not?