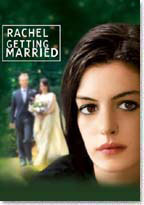 Kym (Anne Hathaway) is released from rehab for a few days so she can go home to attend the wedding of her sister Rachel (Rosemarie DeWitt). Kym's father (Bill Irwin) shows intense concern for Kym's well-being and whereabouts, which she interprets as mistrust. She also resents her sister's choice of her best friend Emma (Anisa George), rather than Kym, to be her maid of honor.
Rachel, for her part, resents the attention her sister's drug addiction is drawing away from her wedding, a resentment that comes to a head at the rehearsal dinner, where Kym, amid toasts from friends and family, takes the microphone to offer an apology for her past actions, as part of her twelve-step program.
Underlying the family's dynamic is a tragedy that occurred years previously, which Kym retells at a Narcotics Anonymous meeting. As a teenager, Kym was responsible for the death of her young brother Ethan, who was left in her care one day; driving home from a nearby park, an intoxicated Kym had lost control of the car, driving over a bridge and into a lake, where her brother drowned.
The day before the wedding, as Rachel, Kym, and the other bridesmaids are getting their hair done, Kym is approached by a man whom she knew from an earlier stint in rehab. He thanks her for the strength she gave him through a story about having been molested by an uncle and having cared for her sister, who was anorexic. Rachel, hearing this, storms out of the hair salon. The story, it turns out, was all a lie — an apparent attempt by Kym to evade responsibility for her addiction.
Sitting through a movie about sibling rivalry at a wedding, especially one starring the doe-eyed and normally facile Anne Hathaway, sounds like a potentially painful way to spend an evening. However, as directed by Jonathan Demme and written by Jenny Lumet (daughter of master filmmaker Sidney Lumet), this 2008 drama is not a lightweight star vehicle à la Julia Roberts circa 1997 but a darkly realistic look at the dysfunction within a family thrown into disarray. Using an almost cinéma vérité style, Demme explores how a wedding reopens old wounds within a family in a naturalistic way made all the more palpable by the emotional acuity in Lumet's screenplay.
Director: Jonathan Demme
Year of Release: 2008

Character to watch: Anne Hathaway as Kym Buchman.
Journal your answers to the following questions after you watch the movie.
How does this particular character's journey compare with yours?
Did the character develop certain characteristics during the movie that you have or that you would like to have? If so, what are those characteristics?
What obstacles did this character face? What was his or her biggest challenge?
What would you have done differently if you had been in the same position as the character?
Is this character the type of person you would be friends with? Why or why not?