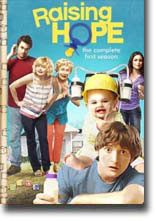 Sweet but dim Jimmy Chance (Lucas Neff) finds himself a father after a cute one-night stand turns out to be a serial killer. Jimmy brings their daughter Hope home, to the dismay of his parents–Virginia (Martha Plimpton), a surly housecleaner, and Burt (Garret Dillahunt), owner of a rag-tag pool-cleaning business–who already have their hands full taking care of their addled Maw Maw (Cloris Leachman), who's prone to running around topless. Can this cantankerous household, perhaps with the help of clever grocery store clerk Sabrina (Shannon Woodward), take care of Hope?
From the zippy pilot to the sublimely ridiculous final episode, Raising Hope: The Complete First Season is a white trash delight. The description of the basic setup doesn't capture the tone, which is an unlikely mixture of caustic gags (when Jimmy doesn't strap down the baby seat, the seat–with the baby in it–goes tumbling across the car's back seat) and multilayered character humor (on Halloween, Burt routinely terrifies Jimmy with a scary mask… but he does it because he wants Jimmy to run home and hug him).Some critics have attacked the show's arguably cruel edge, but it's the balance of the sweet and the acidic that gives Raising Hope its unique and, if you get in its groove, delicious flavor. Plots range from baby-themed (trying to find Hope daycare, training her to sleep through the night) to pure off-the-wall (a cousin joins a polygamous cult, a faded rock star comes to town), but the interplay among the cast is always strong. Plimpton has been nominated for awards, but Neff, Dillahunt, and Woodward are all as solid, maintaining a cheerful yet sardonic tone to the proceedings.
The only character who feels flat is Maw Maw; Leachman is an old pro, but the writers just use the crazy old person as an easy crutch for non sequiturs. Her infrequent moments of lucidity suggest much more interesting possibilities that, with any luck, creator Greg Garcia (who previously created My Name Is Earl) will start to pursue. The Complete First Season has only a handful of extras, but the deleted scenes are excellent and comparing the original pilot episode with the one that finally made it on the air is a study in honing a show's sensibility. All in all, an excellent first season.

Character to watch: Maw Maw; Cloris Leachman as Maw Maw.
Journal your answers to the following questions after you watch the series.
How does this particular character's journey compare with yours?
Did the character develop certain characteristics during the movie that you have or that you would like to have? If so, what are those characteristics?
What obstacles did this character face? What was his or her biggest challenge?
What would you have done differently if you had been in the same position as the character?
Is this character the type of person you would be friends with? Why or why not?