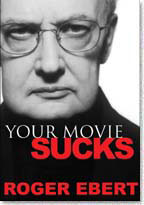 On this day, April 4, 2013, we lost someone who was probably the best film critic ever: Roger Ebert. He died early today at the age of 70 after a prolonged battle with cancer. Chicago Tribune critic Michael Phillip today called Ebert "The the most popular and beloved film critic of all time."
"I'll see you at the movies," were the last word's Ebert wrote to his readers in his blog just two days ago. It was published in an essay titled "Leave of Presence" in which he explained he was planning to slow down and reduce the number of movie reviews he wrote.
Ebert started as the Sun-Times film critic on April 3, 1967, writing about 200 reviews each of those 46 years. Ebert was the best-known film reviewer of his generation, and one of the most trusted. Along with his fellow reviewer and sometime sparring partner Gene Siskel, Ebert could lift or sink the fortunes of a movie with their trademark thumbs up or thumbs down.
The following are some of Ebert's favorite philosophical moments about film:
— "Every great film should seem new every time you see it."
— "No good movie is too long and no bad movie is short enough."
— "If you have to ask what it symbolizes, it didn't."
— "If a movie isn't a hit right out of the gate, they drop it. Which means that the whole mainstream Hollywood product has been skewed toward violence and vulgar teen comedy."
Ebert, who won a Pulitzer Prize for film criticism in 1975, wrote some of the most unusual and poignant movie reviews. What follows are some of his sharpest criticisms:
About Rob Schneider's "Deuce Bigalow: European Gigolo" in 2005, Ebert said, "If he's going to persist in making bad movies, he's going to — have to grow accustomed to reading bad reviews."  When another movie critic, Patrick Goldstein, wrote a bad review of Schneider's movie, commented and then Ebert retorted with: "But Schneider is correct, and Patrick Goldstein has not yet won a Pulitzer Prize. Therefore, Goldstein is not qualified to complain that Columbia financed "Deuce Bigalow: European Gigolo" while passing on the opportunity to participate in "Million Dollar Baby," "Ray," "The Aviator," "Sideways" and "Finding Neverland." As chance would have it, I have won the Pulitzer Prize, and so I am qualified. Speaking in my official capacity as a Pulitzer Prize winner, Mr. Schneider, your movie sucks."
A example of Ebert's wit comes from his review of Tom Green's 2001 comedy "Freddy Got Fingered" of which he wrote one of his most scathing reviews ever: "This movie doesn't scrape the bottom of the barrel. This movie isn't the bottom of the barrel. This movie isn't below the bottom of the barrel. This movie doesn't deserve to be mentioned in the same sentence with barrels."
Upon hearing of his death today, almost everyone made a comment, including President Obama, and many Chicagoans.According to Jeff McMahon from Forbes magazine, Ebert was America's "greatest movie reviewer … Not because he cared about movies, not because he told us what to think about movies, but because he told us just enough to care and to think for ourselves."
Perhaps the best comment about him today came from Rick Kogan of the Chicago Tribune, who pointed out that Ebert "displayed the soul of a poet." As a movie critic who read Ebert's reviews almost daily, I will deeply miss that poetry.