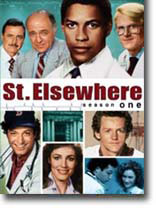 Beginning its six-year run in 1982, St. Elsewhere was neither television's first ensemble medical drama nor, heaven knows, its last. Even now, when reality programming blights the landscape like some biblical plague, doc, cop, and lawyer shows remain staples of the medium, the older show, despite its somewhat cheesy '70s vibe, is the hands-down winner when it comes to the actual steak.
That's because it does it the old-fashioned way: by relying on good writing, vividly-drawn, identifiable characters, and excellent performances by an eye-opening group of actors.Co-creators Joshua Brand and John Falsey's pilot episode, which establishes the scene at Boston's St. Eligius Hospital (mocked as "St. Elsewhere" due to its rundown facilities and reputation as a "dumping ground" for the poor and disenfranchised), isn't especially promising.
While we can see right away that the show sports a lighter, more humorous tone than others of its genre, the direction is static, the acting and dialogue are often stiff, and what passes for "chaos" is pretty tame.
The show hits its stride almost immediately thereafter, as the characters (including Howie Mandel's wisecracking Dr. Fiscus, David Morse's driven, committed Dr. Morrison, William Daniels' egotistical, pompous Dr. Craig, and Ed Begley, Jr.'s nerdy Dr. Ehrlich) are more fully realized.
The cast, in fact, may be the most impressive ever assembled for a TV program: in the first season alone, the list of actors with regular, recurring, and one-shot appearances includes future movie stars Denzel Washington (a regular, but his role is minor), Tim Robbins, Ally Sheedy, Christopher Guest, Laraine Newman, Ray Liotta, Tom Hulce, Michael Madsen, and Rae Dawn Chong.
Sure, some of the multiple storylines are dated: the handling of issues like gun control, immigration, and terrorism seems almost quaint by today's standards, and a running gag concerning ladies man Dr. Samuels' (David Birney) having to inform his many lovers that he has gonorrhea comes off as tasteless and unfunny, notwithstanding that era's low awareness of AIDS and other STDs. But on the whole, St. Elsewhere set is a reminder of episodic TV at its best.

Character to watch: Howie Mandel as Dr. Fiscus.
Journal your answers to the following questions after you watch the series.
How does this particular character's journey compare with yours?
Did the character develop certain characteristics during the movie that you have or that you would like to have? If so, what are those characteristics?
What obstacles did this character face? What was his or her biggest challenge?
What would you have done differently if you had been in the same position as the character?
Is this character the type of person you would be friends with? Why or why not?