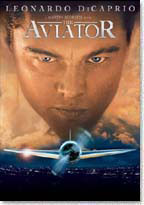 By the time Hughes (Leonardo DiCaprio) was 22 in 1927, he had inherited his family's fortune and was living in California. He hired Noah Dietrich (John C. Reilly) to run the Hughes Tool Company and began pursuing his interests in film and aviation. Hughes started by directing the silent film, Hell's Angels. Despite skepticism among movie critics, Hell's Angels is a hit.
Hughes becomes romantically involved with actress Katharine Hepburn (Cate Blanchett). They live together and she tries to help his with his obsessive-compulsive disorder (OCD). As Hughes' fame grows, he is linked to various starlets, including Faith Domergue (Kelli Garner) and Ava Gardner (Kate Beckinsale). Hughes' OCD worsens in the form of the repetition of phrases and a phobia of dust and germs. He also grows increasingly paranoid, planting microphones and tapping Gardner's phone lines to keep track of her.
Martin Scorsese's stylish take on Howard Hughes' early life, is a stunningly visual treat in art direction made even more compelling by Scorsese's sure handed directorial flourishes. Scorsese is, by now, a master of the medium, always finding the interesting shot, the fitting camera angle, the flowing tracking shot, the camera movement that breathes energy into his story. It is beautifully filmed and acted, most especially by Leonardo DiCaprio as Howard Hughes.
It is a long movie, and it will be interesting to see whether a modern audience, many doubtless unfamiliar with the Hughes legend, will find it as intriguing as we who remember the Hughes of Las Vegas etc. Take the clue from the title, this is a film about the young Hughes who was a genius and a creative dynamo, and an almost overlooked pioneer of aviation. This was a young man full of ambition, dreams, energy and contradictions. The film not only presages the pitiable creature Hughes will become, a slave to his obsessive compulsive illness, but it does so with sympathy and sensitivity.
Director: Martin Scorsese
Year of Release: 2004

Character to watch: Leonardo DiCaprio as Howard Hughes.
Journal your answers to the following questions after you watch the movie.
How does this particular character's journey compare with yours?
Did the character develop certain characteristics during the movie that you have or that you would like to have? If so, what are those characteristics?
What obstacles did this character face? What was his or her biggest challenge?
What would you have done differently if you had been in the same position as the character?
Is this character the type of person you would be friends with? Why or why not?