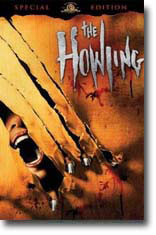 A graduate of Roger Corman's school of low-budget ingenuity, director Joe Dante rose to the challenge of The Howling, an instant werewolf classic. Makeup wizard Rob Bottin created what was then the wildest onscreen transformation ever seen.
With Gary Brandner's novel The Howling as a starting point, Dante conceived a werewolf colony on the California coast, posing as a self-help haven led by a seemingly benevolent doctor (Patrick Macnee), and populated by a variety of "patients," from sexy, leather-clad sirens (among them Elisabeth Brooks) to an old coot (John Carradine) who's quite literally long in the tooth. When a TV reporter (Dee Wallace) arrives at the colony to recover from a recent trauma, the resident lycanthropes surround her.
Dante handles it all with equal measures of humor, sex, gore, and horror, pulling out all the stops when the ravenous Eddie (Robert Picardo) transforms into a towering, bloodthirsty werewolf. As usual, in-jokes abound, from characters named after werewolf-movie directors, amusing cameos from the director, and hammy inserts of wolfish cartoons and Allen Ginsberg's "Howl." It's best appreciated now as a quintessential example of early-'80s horror, with low-budget limitations evident throughout, but The Howling remains a giddy genre milestone.
One night, in a daring attempt to catch the killer on live television, Karen comes face to face with the beast inside him. A rookie cop comes to the rescue, and fills Eddie with lead before Karen can be physically harmed, but she's already the victim of psychological damage. Even the famous Dr. Waggner (Patrick Macnee) can't help Karen remember the face she saw that night, which has been locked away deep in her subconscious. Finally, the concerned doctor suggests that Karen and her husband, Bill, spend some time at his "Colony," a retreat in the California woods for some of his patients who need to "unwind."
When the two arrive there, however, they find the place is hardly a relaxing setting. Surrounded by strangers who just keep getting stranger, disturbing howls coming from the woods at night, and a sudden rash of animal mutilations, Karen is not having a restful stay. To make matters worse, the Colony's lovely resident nymphomaniac, Marsha, has designs on Karen's frustrated husband, Bill.
Meanwhile, back in the city, Karen's friends and co-workers, Chris and Terry, are doing their best to discover the secrets of Eddie Quist, who they find has mysteriously disappeared from the city morgue. Their search leads them on a path of werewolves and the supernatural, and both will have to come to terms with what they believe if they are going to save their friend from the dangers that surround her before it is too late,
Director:  Joe Dante
Year of Release: 1981

Character to watch: Dee Wallace as Karen White.
Journal your answers to the following questions after you watch the movie.
How does this particular character's journey compare with yours?
Did the character develop certain characteristics during the movie that you have or that you would like to have? If so, what are those characteristics?
What obstacles did this character face? What was his or her biggest challenge?
What would you have done differently if you had been in the same position as the character?
Is this character the type of person you would be friends with? Why or why not?