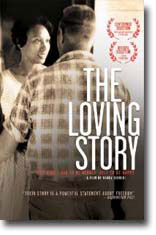 On June 2, 1958, a white man named Richard Loving and his part-black, part-Cherokee fiancée Mildred Jeter traveled from Caroline County, VA ,to Washington, D.C., to be married. At the time, interracial marriage was illegal in 21 states, including Virginia.
Back home two weeks later, the newlyweds were arrested, tried and convicted of the felony crime of "miscegenation." Two young ACLU lawyers took on the Lovings' case, fully aware of the challenges posed. The U.S. Supreme Court ruled unanimously in favor of the Lovings on June 12, 1967. This precedent-setting decision resulted in 16 states being ordered to overturn their bans on interracial marriage.
The Loving Story is a film that represents a perfect time capsule that illuminates the racist past of our country with a uniquely personal and poignant emphasis. If a documentary can inspire us to look past the politics and punditry to recognize the humanity of the people our laws demonize, then it has certainly done the nation a service. It is about not just a story of a forbidden marriage, but of quiet people who were underestimated by everyone.
This is a remarkable chronicle of history that tells an incredibly important story. For subject matter alone, I highly recommend this earnest endeavor by filmmaker Nancy Buirski. The documentary tells the tale of Richard and Mildred Loving, an interracial couple who became reluctant heroes in the Civil Rights movement. Living in Virginia, the couple was persecuted, prosecuted and exiled by state officials who were staunch supporters of an anti-miscegenation campaign.
The couple didn't realize they were violating any laws, they were simply in love and wanted to reside in the place that they considered home. Their dogged determination to fight to stay in Virginia had long-standing repercussions across the nation. Their case made it to the Supreme Court in 1967, and Loving v. Virginia declared that anti-miscegenation legislation was not enforceable under the fourteenth amendment. It was a landmark case, made all the more inspiring by the fact that Richard and Mildred were just ordinary folks.
Director: Nancy Buirski
Year of Release: 2011

Character to watch: Lindsay Almond Jr. as Himself.
Journal your answers to the following questions after you watch the movie.
How does this particular character's journey compare with yours?
Did the character develop certain characteristics during the movie that you have or that you would like to have? If so, what are those characteristics?
What obstacles did this character face? What was his or her biggest challenge?
What would you have done differently if you had been in the same
position as the character?
Is this character the type of person you would be friends with? Why or why not?