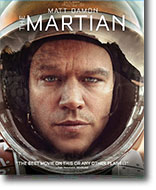 Matt Damon's Everyman quality and wry sense of humor makes him the perfect actor to portray Mark Watney, astronaut, in Ridley Scott's "The Martian," written by Drew Goddard, based on the book by Andy Weir.
When a violent storm forces the Hermes crew, led by Commander Melissa Lewis (a steely Jessica Chastain), to abort the Ares III mission to Mars, the crew reluctantly leaves without Mark Watney, who was injured and presumed dead. Somehow, Watney survives, and starts keeping a log of his experiences on the Red Planet.
Watney is a realist. It could take years for a rescue team to retrieve him, so he gets down to business: rationing and growing food, making water, repairing damaged equipment, and establishing communication with Mission Control.
In 3-D, the views are spectacular, with flying debris coming at us from various directions; the desolate yet strangely beautiful Martian terrain stretching out to infinity; the Hermes astronauts floating from one pod to another; and the thrilling, acrobatic finale. "The Martin," is not deep, nuanced, or subtle, but it is a certified crowd pleaser.
Matt Damon shines as a genius who, in spite of daunting challenges and discouraging setbacks, dusts himself off and comes up with solutions, including multiple uses for duct tape. Watney makes jokes about outdated Disco music, boasts about his skills as a botanist, and makes comments laced with profanity while communicating with earth.
The supporting actors include Jeff Daniels as NASA Director Teddy Sanders, who must make tough decisions that factor in not just the human element, but also his agency's image, political standing, and fiscal constraints. Would Americans ever abandon one of their own? At a time when some nations have lost respect for the United States, this film boosts morale with its can-do spirit.
For a little over two hours, we sit back, take in the sights, and imagine what it would be like to be stranded on a faraway planet, trying to remain optimistic, and using our scientific know-how, guts, and resourcefulness to stay alive until a rescue.
Director: Ridley Scott
Year of Release: 2015

Character to watch: Matt Damon's as Mark Watney.
Journal your answers to the following questions after you watch the movie.
How does this particular character's journey compare with yours?
Did the character develop certain characteristics during the movie that you have or that you would like to have? If so, what are those characteristics?
What obstacles did this character face? What was his or her biggest challenge?
What would you have done differently if you had been in the same position as the character?
Is this character the type of person you would be friends with? Why or why not?