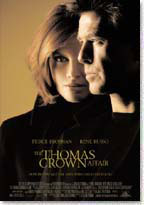 Thomas Crown (Pierce Brosnan) is a wealthy financier who aches for a challenge. Despite all of his success in business (and with women), he feels bored. Among other diversions, he crashes an expensive catamaran while racing and bets $100,000 on a golf swing simply because "it's a beautiful Saturday morning", and there is not much else to do.
In order to cure his boredom, Crown orchestrates an elaborate heist and steals a painting (San Giorgio Maggiore at Dusk) by Monet, valued at $100 million, from the Metropolitan Museum of Art. The insurers of the artwork send Catherine Banning (Rene Russo), an insurance investigator, to assist NYPD Detective Michael McCann (Denis Leary) in solving the crime.
From the beginning, Banning suspects Crown is behind the theft. A game of cat-and-mouse ensues that results in their becoming lovers and gives Crown exactly what he was seeking, as his psychiatrist puts it: "A worthy adversary". To prove his sincerity and test her loyalty to him, Crown returns to the museum under the eye of Banning and dozens of police officers, vowing to put the stolen painting back.
Director: John McTiernan
Year of Release: 1999

Character to watch: Rene Russo as Catherine Banning.
Journal your answers to the following questions after you watch the movie.
How does this particular character's journey compare with yours?
Did the character develop certain characteristics during the movie that you have or that you would like to have? If so, what are those characteristics?
What obstacles did this character face? What was his or her biggest challenge?
What would you have done differently if you had been in the same position as the character?
Is this character the type of person you would be friends with? Why or why not?