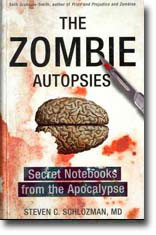 Presented as the journal kept by a neuroscientist investigating the medical causes of zombiism, Schlozman's clever debut shows that there's still life left in the overworked horror theme of the living dead. Dr. Stanley Blum is already infected (as is two-thirds of humankind) with ataxic neurodegenerative satiety deficiency syndrome (ANSD)—the virus that makes flesh-eating zombies lurch and lunch—when he decamps to Bassas da India, an island overseen by the U.N., to vivisect captive zombies in the hope of isolating the pathogen before he succumbs to it.
Schlozman makes the science both accessible and plausible. In lieu of a meaty plot, he provides a grim vision of zombie apocalypse and a surprise explanation for the virus's origin. Printed as a handwritten diary and illustrated in gory glory with clinical drawings by Andrea Sparacio, this book is sure to be scarfed up by ravenous zombiephiles.
With the recent successes of films like Zombieland and the TV series The Walking Dead, zombies have never been trendier. In this fictional "secret notebook" describing a zombie research project, Harvard-trained physician and avowed horror fan Schlozman capitalizes on the undead craze with an inventively framed apocalyptic tale embellished with black humor. Embedded within the recovered journals of zombie expert Dr. Stanley Blum is the story of a viral research team quarantined on a remote island with specimens from a future worldwide plague dubbed Ataxic Neurodegenerative Satiety Deficiency Disorder, otherwise known as zombiism.
Alas, the team inevitably succumbs to the illness themselves but not without, apparently, finding the cure. Hence, the World Health Organization's urgent "release" of the notebooks, complete with illustrations of zombie anatomy and graphic descriptions of toothsome mayhem. While medical professionals may reap a few laughs from Schlozman's meticulous faux scientific research, the target audience is comprised of horror fans and zombie enthusiasts.
Author: Steven C. Schlozman
Year of Release: 2012