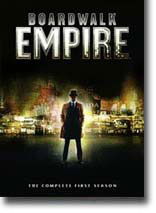 HBO's Boardwalk Empire returns to 1920 when the ban on booze led to a syndicate of bootleggers and smugglers. Created by Sopranos scribe Terence Winter and coproduced by director Martin Scorsese, the story centers on Atlantic City treasurer Enoch "Nucky" Thompson (Steve Buscemi), who schemes in private while preaching temperance in public (Mark Wahlberg and Tim Van Patten also serve as producers).Jimmy (Michael Pitt, Buscemi's Delirious costar), a war veteran, acts as his right-hand man, while zealous Agent Van Alden (Michael Shannon) and refined mobster Arnold Rothstein (A Serious Man's Michael Stuhlbarg) represent significant threats to his enterprise.
Nucky's other associates include his sheriff brother Eli (Shea Whigham), sexpot girlfriend Lucy (Paz de la Huerta), and distributor Chalky (The Wire's Michael K. Williams). If Nucky has little regard for law and order, his soft side emerges in his dealings with Irish immigrant Margaret (Kelly Macdonald, excellent), who segues from abused wife to kept woman.
As Nucky puts it, "I try to be good. I really do." After he sends Jimmy away a spell, his sidekick joins forces with Al Capone (Stephen Graham, Public Enemies) and disfigured vet Richard Harrow (Jack Huston), abandoning his son, common-law wife Angela (Aleksa Palladino), and mother Gillian (Gretchen Mol), who has a fling with Lucky Luciano (Vincent Piazza).
Inspired by Nelson Johnson's book, Boardwalk Empire takes a Deadwood-like approach to history by combining characters both factual and fictional with blue language and ladies without brassieres. Winter, who won an Emmy for The Sopranos episode Pine Barrens, takes liberties with the historical record, but the series never claims to represent the truth and nothing but–which is only fitting when everyone's hiding secrets. If the entire ensemble deserves praise, Buscemi rules the show as thoroughly as Nucky rules the city.

Character to watch: Steve Buscemi as Enoch "Nucky" Thompson
Journal your answers to the following questions after you watch the series.
How does this particular character's journey compare with yours?
Did the character develop certain characteristics during the movie that you have or that you would like to have? If so, what are those characteristics?
What obstacles did this character face? What was his or her biggest challenge?
What would you have done differently if you had been in the same position as the character?
Is this character the type of person you would be friends with? Why or why not?