Below is a list of some popular film genres used in Cinema Therapy. Many films are in more than one genre. Examples of films from that genre are given as is a character actor from a specific film. In cinema therapy, characters from movies are often discussed in order to get a deeper understanding of an issue the movie character is experiencing.
---
Action Films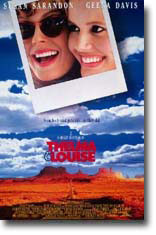 Action films usually include high energy, big-budget physical stunts and chases, often with rescues, battles, fights, escapes, and destructive crises, such as floods, explosions, natural disasters, and fires. Action movies usually have non-stop motion and adventurous with the good-guy hero or heroine battling the bad guys. Examples of action films include Top Gun, James Bond, Blade Runner, The French Connection, and the Untouchables.
A major sub-genre is the disaster film, which hit their peak in the 1970s. Big-budget disaster films often have all-star casts and suspenseful action and impending crises (either man-made or natural). The disaster film if often noted for its visual and special effects, but not necessarily the acting performances.
Character to watch: Brad Pitt in Thelma & Louise. Pitt plays J.D., a young hitchhiker that Thelma and Louise pick up on their road to adventure. Thelma throws off her yoke of dependence on her husband when she sleeps with J.D., and thus J.D. plays a pivotal road in her gaining her freedom. Pitt's character demonstrates how people we meet briefly in life often provide the impetus for change.
Click here to order the above movie at Amazon.
Adventure Films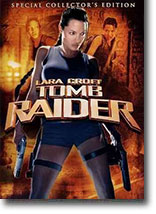 Adventure films are usually exciting stories, with new experiences or exotic locales, very similar to or often paired with the action film genre. They can include traditional swashbucklers, serialized films, and historical spectacles (similar to the epics film genre), searches or expeditions for lost continents, "jungle" and "desert" epics, treasure hunts, disaster films, or searches for the unknown.
Adventure Films are provide an action-filled, energetic experience for the film viewer. Rather than the predominant emphasis on violence and fighting that is found in action films, however, the viewer of adventure films can live vicariously through the travels, conquests, and explorations. Examples of adventure films include Jurassic Park, The Lord of the Rings, The Matrix, and The Mummy.
Character to watch: Angelina Jolie in Lara Croft Tomb Raider. Jolie plays Lara Croft, a British aristocrat, who, hen When adventuring, always carries 9-mm twin Colt 45s. Her weapon of choice. This character's main focus of therapeutic interest is her autonomy and success as a deeply feminine woman in a man's world.
Click here to order the above movie at Amazon.
Comedies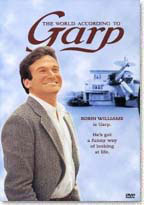 Comedy films are movies in which the main emphasis is on humor. Films in this style traditionally have a happy ending (the black comedy being an exception). One of the oldest genres in film, some of the very first silent movies were comedies. Comedy, unlike other film genres, puts much more focus on individual stars, with many former stand-up comic transitioning to the film industry due to their popularity.
While many comic films are lighthearted stories with no intent other than to amuse, others contain political or social commentary, slapstick, screwball, spoofs and parodies, romantic comedies, or black comedy (dark satirical comedy). Examples of comedy films include Groundhog Day, The World According to Garp, There's Something About Mary, and Meet the Parents.
Character to watch: John Lithgow in The World According to Garp. Lithgow plays Roberta Muldoon, a transsexual ex-football player struggling to become more tolerant in the face of intolerance. Amidst this black comedy, this character faces serious identity issues interlaced with learning how to be compassionate and empathetic.
Click here to order the above movie at Amazon.
Drama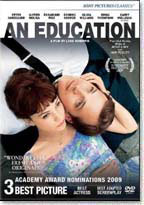 Drama films are serious, plot-driven presentations, portraying realistic characters, settings, life situations, and stories involving intense character development and interaction. Usually, they are not focused on special-effects, comedy, or action, Dramatic films are probably the largest film genre, with many subsets. See also melodramas, epics (historical dramas), or romantic genres. Dramatic biographical films (or "biopics") are a major sub-genre, as are 'adult' films (with mature subject content).
A drama film is a film genre that depends mostly on in-depth development of realistic characters dealing with emotional themes. Examples of drama dramas include Walking the Line, Coalminer's Daughter, Gone With the Wind, and the Godfather.
Character to watch: Carey Mulligan in An Education. Mulligan plays Jenny Mellor, who gets an education alright, but not in the way she expects. We watch as Jenny, a teenage girl in 1960s suburban London, goes through major life changes with the arrival of a playboy nearly twice her age.
Click here to order the above movie at Amazon.
Horror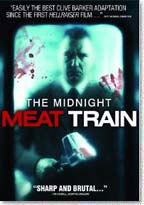 Horror films are unsettling movies that strive to elicit the emotions of fear, disgust and horror from viewers. They often feature scenes that startle the viewer through the means of macabre and the supernatural, thus frequently overlapping with the fantasy, science fiction, and thriller genres. There are many sub-genres of horror: slasher, teen terror, serial killers, satanic, Dracula, Frankenstein, etc.
Horror films are skillfully designed to frighten us and invoke our hidden worst fears, often in a terrifying, shocking finale, while captivating and entertaining us at the same time in a cathartic experience. Many people love horror films simply for the adrenaline rush. Examples of horror films include Nightmare on Elm Street, American Werewolf in London, Alien, The Strangers, The Ring, and The Grudge.
Character to watch: Bradley Cooper in Midnight Meat Train. Cooper plays Leon Kauffman, a budding photographer desperate to find success in a highly competitive field. Leon struggles with the issue of integrity in the face of personal need.
Click here to order the above movie at Amazon.
Science Fiction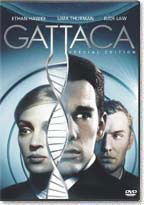 Science fiction films are a film genre that uses science fiction: speculative, science-based depictions of phenomena that are not necessarily accepted by mainstream science, such as extraterrestrial life forms, alien worlds, extrasensory perception, and time travel, often along with futuristic elements such as spacecraft, robots, or other technologies.
Sci-fi films are often quasi-scientific, visionary and imaginative – complete with heroes, aliens, distant planets, impossible quests, improbable settings, fantastic places, great dark and shadowy villains, futuristic technology, unknown and unknowable forces, and extraordinary monsters. Examples of science fiction films include Terminator, E.T. the Extra-Terrestrial, Metropolis, and The Fly.
Character to watch: Ethan Hawke in Gattaca. Hawke plays Vincent Freeman, from a the not-too-distant future where liberal eugenics is common and DNA plays the primary role in determining social class. Vincent is conceived and born without the aid of this technology and therefore has a high probability of developing mental disorders, is myopic, has a heart defect, and his projected life expectancy is only 30.2 years. His primary area of interest in cinema therapy involved the development of self-esteem.
Click here to order the above movie at Amazon.
Musicals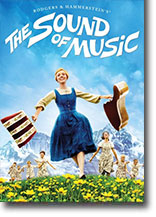 Musicals is a film genre in which several songs sung by the characters are interwoven into the narrative. The songs are used to advance the plot or develop the film's characters, but some musical films include the songs in as production numbers. A subgenre of the musical film is the musical comedy, which includes a strong element of humor as well as the usual music, dancing and storyline.
Musical films characteristically contain elements reminiscent of theater; performers often treat their song and dance numbers as if there is a live audience watching. In a sense, the viewer becomes the deictic audience, as the performer looks directly into the camera and performs to it. Examples of musicals include Guy and Madeline on a Park Bench, Burlesque, Mama Mia, I Want to Sing!, and Tangled.
Character to watch: Julie Andrews in The Sound of Music. Andrews plays Maria, a younf woman who is failing miserably in her attempts to become a nun. When the Navy captain Georg Von Trapp writes to the convent asking for a governess that can handle his seven mischievous children, Maria is given the job. The Captain's wife is dead, and he is often away, and runs the household as strictly as he does the ships he sails on.
Click here to order the above movie at Amazon.
Epics/Historical Films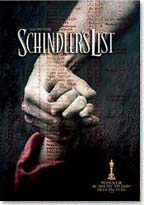 Epics/Historical Films is a film genre that emphasizes human drama on a grand scale. Epics are more ambitious in scope than other film genres, and their ambitious nature helps to differentiate them from similar genres such as the period piece or adventure film. They typically entail high production values, a sweeping musical score (often by an acclaimed film composer), and an ensemble cast of bankable stars, placing them among the most expensive of films to produce.
Historical epics are epic films that take place in the historical past, often focusing on people who alter the course of history. A number of historical epics have been set in ancient times, particularly in Rome, Greece, or Egypt. Examples of epics and historical films include The Young Victoria, The Right Stuff, The Last Emperor, and Apocalypse Now.
Character to watch: Liam Neeson in Schindler's List. Neeson plays Oskar Schindler, a German industrialist credited with saving hundreds of Jews during the horrors of the Holocaust. This is the true story of one remarkable man who outwitted Hitler and the Nazis to save more Jews from the gas chambers than any other during World War II.
Click here to order the above movie at Amazon.
Crime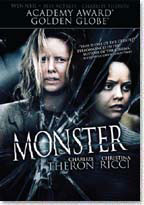 Crime and Gangster Films is a film genre that focuses on the lives of criminals. Often, a crime and gangster film will glorify the police as well. Some crime and gangster films, like the Untouchables and Public Enemies are historic films as well because they portray stories about actual public figures. Crime films may fall under several different subgenres, including crime comedies, crime horrors, crime thrillers, detective films, and heist films.
The stylistic approach to a crime film varies from realistic portrayals of real-life criminal figures, to the far-fetched evil doings of imaginary arch-villains. Criminal acts are almost always glorified in these movies. Examples of crime and gangster films include Bonnie and Clyde, The Godfather, Casino, and Goodfellas.
Character to watch: Charlize Theron in Monster. In this true story, Theron plays Aileen Wuornos, a Daytona Beach prostitute who became a serial killer. This character helps us to understand how both our childhood and adult development helps us to become who we are and influences the things we do and the decisions we make.
Click here to order the above movie at Amazon.
Westerns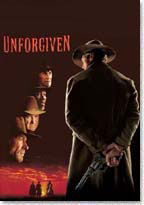 Western films are the major defining genre of the American film industry, known as a eulogy to the early days of the expansive American frontier. As such, Westerns are devoted to telling stories set primarily in the latter half of the 19th century in the American Old West. They are considered one of the oldest, most enduring genres with very recognizable plots, elements, and characters. Classic Western scenes include six-guns, horses, dusty towns and trails, cowboys, and Indians.
Westerns have been re-defined, re-invented and expanded, dismissed, re-discovered, and spoofed. Many subgenres have developed including Spaghetti, Revisionist, Acid, Contemporary, Horror, and Science fiction. Examples of Westerns include The Treasure of the Sierra Madre, True Grit, Tombstone, and The Unforgiven.
Character to watch: Frances Fisher in Unforgiven. Fisher plays Strawberry Alice, the leader of a group of prostitutes in Big Whiskey, Wyoming. Alice offers a $1,000 reward to whoever can kill two men who disfigured one of their fellow prostitutes, Delilah Fitzgerald. This character demonstrates how a woman in a subservient position can assert herself and do noble acts.
Click here to order the above movie at Amazon.