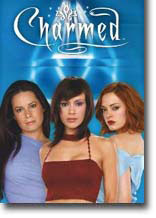 The three Halliwell sisters discover that they are descendents of a line of female witches. Each has a special ability (stopping time, moving objects, seeing the future), and they can also combine their abilities into the "Power of Three" to fight demons, warlocks, and other evils.
The series narrative follows three sisters, known as "The Charmed Ones", the most powerful good witches of all time, whose prophesied destiny is to protect innocent lives from evil beings. Each sister possesses unique magical powers that grow and evolve, while they attempt to maintain normal lives in modern day San Francisco.
Keeping their supernatural identities separate and secret from their ordinary lives often becomes a challenge for them, with the exposure of magic having far-reaching consequences on their various relationships and resulting in a number of police and FBI investigations throughout the series.
The first three seasons of Charmed focus on the three Halliwell sisters, Prue (Shannen Doherty), Piper (Holly Marie Combs) and Phoebe (Alyssa Milano). Following the death of Prue in the third season finale, their long-lost half sister Paige Matthews (Rose McGowan) assumes her place within the "Power of Three" from season four onwards.
Charmed achieved both critical and popular acclaim, with its first episode "Something Wicca This Way Comes" garnering 7.7 million viewers, breaking the record for the highest-rated debut episode for The WB. During its fifth season, the series became the highest-rated Sunday night program in The WB's history.

Character to watch: Alyssa Milano as Phoebe Halliwell.
Journal your answers to the following questions after you watch the series.
How does this particular character's journey compare with yours?
Did the character develop certain characteristics during the movie that you have or that you would like to have? If so, what are those characteristics?
What obstacles did this character face? What was his or her biggest challenge?
What would you have done differently if you had been in the same position as the character?
Is this character the type of person you would be friends with? Why or why not?