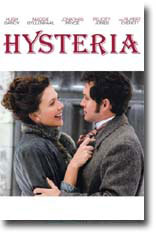 Hysteria brings the highly unlikely yet true story of a young doctor Dr. Mortimer Granville (Hugh Dancy) in London, 1880, who is struggling but eventually finds a job with Dr. Robert Dalrymple (Jonathan Pryce). Dalrymple is treating women for the so-called hysteria disease, really a catch-all for any and all things supposedly wrong with women in those days.
The treatment is nothing else but to touch the women's private parts until they reach "paroxysmal convulsions," another word for orgasm. With the help of his wealthy friend Edmund St. John-Smythe (Rupert Everett), Granville eventually designs a mechanical device, which became the vibrator.
In England of the 1880's, the height of Victorian prudery, where furniture was draped with heavy fabric to prevent the scandalous sight of carved table legs giving rise to lascivious thoughts, the average doctor killed more patients than he saved. Medicine was still medieval, and leeching was still being prescribed even for broken bones.
Granville eagerly embraces all the cutting-edge research of the day and finds himself discharged from one hospital after another for his strange new ideas about germs and hand washing. In desperation, he ends up at the door of Dalrymple, who is eager for help in his thriving and lucrative practice treating "female hysteria."
Hysteria, an affliction of the female nervous system thought to stem from a disorder of the uterus, was at the time the catch-all diagnosis for just about every female ailment, particularly melancholia, nervousness, frigidity, nymphomania and excitability. What we realize now, of course, was that these women were actually suffering — and often quite seriously — from the sheer frustration of the limited, tedious and repressed lives they were forced to live.
A well-bred young woman had no choice but to marry a man she barely knew, submit to his "carnal lusts" with no preparation or expectation of pleasure, run his household, bear his children and do it all while smiling, biting her tongue and wearing a corset. Who wouldn't be depressed, frustrated and, yes, hysterical? In extreme cases, hysterectomies were performed to remove the offending organs. Which says a lot about the complete and utter bigoted ignorance of men in understanding and valuing women's lives and bodies.
It should be noted that only well-to-do women suffered from hysteria. Poor women were too busy simply trying to survive, and barely had access to medical treatment for life-threatening emergencies.
After Granville becomes the doctor's assistant, he soon begins suffering intense carpel tunnel and muscle cramps from the prolonged daily massage of dozens of women. When idly playing with his St. John-Smythe's new invention — an electric duster — he notices the vibrations bring amazing relief to his near-crippled hand.
The movie in fact is much more about Granville's romantic interplay with the two daughters of Dalrymple, Emily (Felicity Jones), who is daddy's girl and to whom Granville gets engaged, and Charlotte (Maggie Gyllenhaal), the rebel daughter who has set up a social center to help the poor. Granville becomes attracted to Charlotte, which, of course, really complicates matters.
Maggie Gyllenhall really shines in this movie. As Charlotte Dalrymple, her acting is reminiscent of Diane Keaton in her late 70s performances, such as Annie Hall. Charlotte is a passionate suffragette and doer of good works in the poorest parts of London.
Check out this very funny and enjoyable movie. If it sounds risqué, it's really not. There's no nudity, no bad language, and only one kiss in the whole movie. It was actually amazing that they could deal with the subject matter in such a Victorian way.
Director: Tanya Wexler
Year of Release: 2011

Character to watch: Maggie Gyllenhall as Charlotte Dalrymple.
Journal your answers to the following questions after you watch the movie.
How does this particular character's journey compare with yours?
Did the character develop certain characteristics during the movie that you have or that you would like to have? If so, what are those characteristics?
What obstacles did this character face? What was his or her biggest challenge?
What would you have done differently if you had been in the same position as the character?
Is this character the type of person you would be friends with? Why or why not?