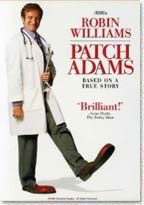 In 1969, Hunter Adams (Robin Williams) is a troubled man who voluntarily commits himself into a mental institution. Once there, he finds that helping his fellow inmates gives him a purpose in life and earns the nickname "Patch". Because of this he aspires to become a medical doctor and two years later enrolls at Virginia Medical University, being the oldest first year student.
He questions the school's approach to medical care, and clashes with the school's Dean Walcott (Bob Gunton), who believes that doctors must treat patients and not bond with them as people. Because of this and other incidents, including a prank during a medical conference, he is expelled from the school, although he is later reinstated due to his methods actually improving the health of patients.
Adams encourages medical students to cultivate relationships with nurses and learn their interviewing skills early, and argues that death should be treated with dignity and even humor.
Adams begins a friendship with fellow student Carin Fisher (Monica Potter), and develops his idea for a medical clinic built around his philosophy of treating patients through humor and compassion. With the help of Arthur Mendelson (Harold Gould), a wealthy man who was a patient whom Patch met while in the mental hospital, he purchases 105 acres in West Virginia to construct the future Gesundheit! Institute.
Together with Carin, medical student Truman Schiff (Daniel London), and some old friends, he renovates an old cottage. When they get the clinic running, they treat walk-in patients without medical insurance, and perform comedy sketches for them.
All the acting is good but Robin Williams as Patch gives an interesting performance. Even though he delivers sidesplitting humor, I felt that it wasn't over-the-top and is balanced quite well with the inspiring, dramatic, and true story. I was also surprised by Daniel London's excellent performance as Truman, Patch's sidekick. Monica Potter's Corinne character is somewhat one-dimensional but she makes the best of it. Philip S. Hoffman also does a good job as the serious medical student named Mitch.
Director:  Tom Shadyac
Year of Release: 1998

Character to watch: Robin Williams as Patch Adams.
Journal your answers to the following questions after you watch the movie.
How does this particular character's journey compare with yours?
Did the character develop certain characteristics during the movie that you have or that you would like to have? If so, what are those characteristics?
What obstacles did this character face? What was his or her biggest challenge?
What would you have done differently if you had been in the same position as the character?
Is this character the type of person you would be friends with? Why or why not?