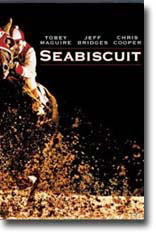 Proving that truth can be greater than fiction, the handsome production of Seabiscuit offers a healthy alternative to Hollywood's staple diet of mayhem. With superior production values at his disposal, writer-director Gary Ross is reverent toward Laura Hillenbrand's captivating bestseller, using archival material and David McCullough's familiar PBS-styled narration to pay Ken Burns-like tribute to Hillenbrand's acclaimed history of Seabiscuit, the knobby-kneed thoroughbred who came from behind in the late 1930s to win the hearts of Depression-weary Americans.
Ross's adaptation retains much of the horse-and-human heroism that Hillenbrand so effectively conveyed; this is a classically styled legend movie, which was also heightened by a sentimental Randy Newman score. Led by Tobey Maguire as Seabiscuit's hard-luck jockey, the film's first-rate cast is uniformly excellent, including William H. Macy as a wacky trackside announcer who fills this earnest film with a much-needed spirit of fun.
For those not familiar with the story, Seabiscuit was a famous racehorse of the Depression era, competing between 1936 and 1940. Ross builds the story around the three men who respectively owned, trained, and raced the horse: wealthy auto salesman Charles Howard (Jeff Bridges), cowboy Tom Smith (Chris Cooper), and jockey Red Pollard (Tobey Maguire).
Ross makes shrewd choices about which details and characters to delete, which events to compress or eliminate altogether, and which aspects of the story to highlight. The result is a wonderful character-driven drama, a story about the power of friendship, love, hope, courage, and never giving up.
Director:  Gary Ross
Year of Release: 2003

Character to watch: Jeff Bridges as Charles Howard.
Journal your answers to the following questions after you watch the movie.
How does this particular character's journey compare with yours?
Did the character develop certain characteristics during the movie that you have or that you would like to have? If so, what are those characteristics?
What obstacles did this character face? What was his or her biggest challenge?
What would you have done differently if you had been in the same position as the character?
Is this character the type of person you would be friends with? Why or why not?