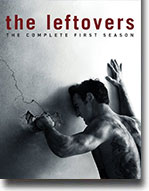 As the Leftovers open, we find out that twp percent of the world's population has disappeared. Was it the Rapture? A mass murder? Cult suicides? Aliens? Based on Tom Perrotta's bestselling novel, The Leftovers follows Kevin Garvey (Justin Theroux), police chief and father of two in Mapletown, New York, three years after the mysterious event.
As Garvey struggles to grieve for his losses, rebuild his life, and regain a sense of normalcy within the community, the world around him grows ever stranger. The Hollywood Reporter's Tim Goodman calls "this bold series…a triumph for Tom Perrotta and Damon Lindelof, plus so many superb actors in the ensemble."
The premise of this series is not your average premise: on a specific date, many people just plain disappear. What happens next? The series is hard to summarize but it has a lot going for it: superb acting all around; never predictable but not too quirky; a protagonist who is by turns immature, vulnerable, tough guy, loving, no-nonsense cop. I found this mix very engaging and at times close-to-poetic. Really well-written and filmed.
The mysteries abound and are not explained immediately and so you have to put some concentration and effort into watching this enjoyable series as things unfold and you begin to see why earlier things happened or how they are connected to the present scenes. Very good writing and character development with some very good acting.

Character to watch: Justin Theroux as Kevin Garvey.
Journal your answers to the following questions after you watch the series.
How does this particular character's journey compare with yours?
Did the character develop certain characteristics during the movie that you have or that you would like to have? If so, what are those characteristics?
What obstacles did this character face? What was his or her biggest challenge?
What would you have done differently if you had been in the same position as the character?
Is this character the type of person you would be friends with? Why or why not?