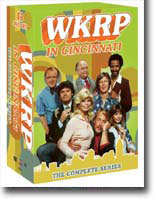 Join everyone's favorite radio DJs—the rockin' Dr. Johnny Fever (Howard Hesseman) and the soulful Venus Flytrap (Tim Reid)—as they weave through the inner-office antics of the crazy WKRP staff; including the station's program director Andy (Gary Sandy), indecisive manager Arthur (Gordon Jump), advertising executive Herb (Frank Bonner) and, of course, the station's lovely receptionist, Jennifer (Loni Anderson).Arthur tries to run a failing Cincinnati radio station owned by his "tough as nails" mother. His own incompetence is overshadowed by the strange employees that work at the station. From wild Disc Jockeys: Dr. Johnny Fever and Venus Flytrap to the geeky news director, Les Nessman and obnoxious advertising sales manager, Herb Tarlek.
With the help of saner employees such as Bailey Quarters; the rather shy journalism major; Jennifer Marlowe, the beautiful receptionist who is the very opposite of a stereotypical "Dumb Blonde" and Andy Travis; the studly program director, Carlson tries gimmick after crazy gimmick to bring money into the station and make it a success. So sit back and enjoy the sound of uproarious laughter as you watch all episodes of this iconic series.

Character to watch:  Howard Hesseman as  Johnny 'Dr. Fever' Caravella.
Journal your answers to the following questions after you watch the series.
How does this particular character's journey compare with yours?
Did the character develop certain characteristics during the movie that you have or that you would like to have? If so, what are those characteristics?
What obstacles did this character face? What was his or her biggest challenge?
What would you have done differently if you had been in the same position as the character?
Is this character the type of person you would be friends with? Why or why not?