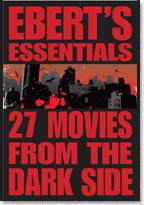 Sometimes there's just nothing more absorbing than watching a movie that truly looks at life on the dark side, revealing those dark parts of human nature that we find so fascinating. In Roger Ebert's picks of 27 Movies From The Dark Side, he offers a varied selection from a look at the seamy side of life in L.A. in Chinatown to a backwoods murder gone wrong in Blood Simple.
Throw in two classics from Alfred Hitchcock, Notorious and Strangers on a Train, and two French tours de force, Bob le Flambeur and Touchez Pas au Grisbi and you've got the primer on film noir.
Ebert loves the film noir genre, and in this brief book he covers the conceptual backbone of these dark films and provides 27 excellent examples for further exploration from well-known classics like The Maltese Falcon and The Third Man, to more obscure films like Pale Flower. While I have seen some of these, he whetted my appetite for more, such as Touch of Evil with Orson Welles, Janet Leigh, and a very young Charlton Heston.
While I don't always agree with Ebert's opinions about movies, I always enjoy reading his reviews, and miss his insight immensely. I truly think Roger Ebert is the giant of film critics of his generations. If you are interested in film noir this is a great book and a quick read.
About the Author: Roger Ebert is the Pulitzer Prize-winning film critic from the Chicago Sun-Times. His reviews are syndicated to more than 200 newspapers in the United States and Canada. The American Film Institute and the School of the Art Institute of Chicago have awarded him honorary degrees, and the Online Film Critics Society named his Web site, RogerEbert.com, the best online movie-review site.
Author: Roger Ebert
Year of Release: 2012