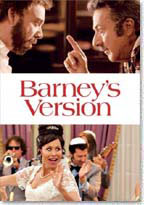 Barney Panofsky (Paul Giamatti) is living with his best friend Boogie (Scott Speedman)  in Rome. He marries the mentally disturbed and unfaithful Clara Charnofsky (Rachelle Lefevre) after she tells him she is pregnant with his child. Barney later finds out the child is not his, and he demands they separate.Clara commits suicide, and a devastated Barney decides to return home to Montreal. Barney soon gets a job back home and meets the woman who becomes his nameless second wife (Minnie Driver), the daughter of a wealthy Jewish family. At their lavish wedding, Barney meets Miriam Grant (Rosamund Pike), and immediately falls in love. He tells Miriam his feelings for her that night but she rejects him.
Despite his marriage, Barney sends Miriam flowers and gifts. Barney later picks up Boogie, who is in the middle of detox therapy, for a few days at Barney's lake house. He eventually finds Boogie in bed with his wife. Barney is at first overjoyed that he has an excuse to divorce her and pursue Miriam, but questions Boogie's integrity.
Barney's Version is at its heart the life of Barney Panofsky, a Jewish man from Montreal who seems at once blessed by fate with opportunities but cursed by flaws that ultimately undo him. Irascible and impulsive, he has a charm that endears even as his behavior often appalls. He has the gift of recognizing the spark of creative genius in others but is seemingly incapable of producing it himself, spending most of his adult life as a producer of a long-running (and painfully banal) Canadian TV soap opera – Constable O'Malley of the North – through his company, the sardonically-named Totally Unnecessary Productions.
The film begins with Barney, on the eve of celebrating his soap opera's 30th year of production, having to contend with the publication of a book by an ex-cop purporting to reveal how Barney is guilty of murder. What follows is Barney's Version of the events of his life, starting with his semi-hedonistic hanging about with friends in Europe when he was in his 20's, quickly careening through two disastrous marriages until he meets the one true love of his life, Miriam, who's a guest at his second wedding.
As a film, Barney's Version suffers from the choices made for the adaptation by the scriptwriter Michael Konyves, both in terms of the framing, which reduces the overall impact that came across in the novel, and in the reductions and compressions which make some of the characters come across as two-dimensional and others at times baffling in terms of their actions and decisions.
Director: Richard J. Lewis
Year of Release: 2011

Character to watch: Paul Giamatti as Barney Panofsky.
Journal your answers to the following questions after you watch the movie.
How does this particular character's journey compare with yours?
Did the character develop certain characteristics during the movie that you have or that you would like to have? If so, what are those characteristics?
What obstacles did this character face? What was his or her biggest challenge?
What would you have done differently if you had been in the same position as the character?
Is this character the type of person you would be friends with? Why or why not?