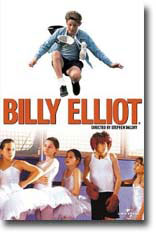 County Durham, during the endless, violent 1984 strike against the Thatcher closure of British coal mines. Widower Jackie Elliot (Gary Lewis) and his firstborn, fellow miner Tony (Jamie Draven), take a dim view of 11 year-old second son Billy's (Jamie Bell) poor record in boxing class, which worsens when they discover he sneakily transferred to the neighboring, otherwise girls-only-attended ballet class.
Only one schoolmate, closet-gay Michael Caffrey (Stuart Wells), encourages Billy's desire, aroused by the teacher, who judged him talented enough for private lesson, to train and try out for the world-renowned Royal Ballet audition. Only the prospect of a fancy career unimagined in the pauper quarter may twist pa and big brother's opposition to indispensable support.
Against the background of an increasingly bitter miners' strike that his elder brother and father are involved in, young Billy Elliot finds he prefers joining in the girls' ballet class at the local hall to the boxing he's there for. The ballet mistress soon realizes he has real potential, but no-one, least of all his family, is likely to go along with a lad doing dancing.
The performance is so accomplished it's a wonder Bell didn't receive an Oscar nomination. Having resisted "Billy Elliot" at the movies, I finally caught it recently on HBO and was taken in immediately. This is a film your entire family can and should enjoy…if they don't, perhaps a little side trip to an English coal-mining town will help them appreciate this wonderful heartwarming film.

Director:  Stephen Daldry
Year of Release: 2000

Character to watch: Jamie Bell as Billy Elliot.
Journal your answers to the following questions after you watch the movie.
How does this particular character's journey compare with yours?
Did the character develop certain characteristics during the movie that you have or that you would like to have? If so, what are those characteristics?
What obstacles did this character face? What was his or her biggest challenge?
What would you have done differently if you had been in the same position as the character?
Is this character the type of person you would be friends with? Why or why not?