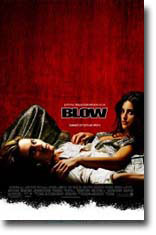 Based on a true story, Blow chronicles the high-speed rise and fall of George Jung (Johnny Depp), who became the largest importer of Colombian cocaine to the United States ay the the time, forever changing the face of drugs in America. Set in the decadent 70's and 80's, Blow traces Jung's partnership with Pablo Escobar (Cliff Curtis), on of the most infamous and dangerous drug lords in history.
Jung, an all American kid from a hard working, hard knocks family, begins dealing marijuana during the 1960s. He develops his business into an empire, and then he decides to branch out into the sexier world of cocaine and really big money. Using his considerable entrepreneurial instinct, he makes a deal with the Columbian drug cartel. Before you know it, he is raking in millions. Unfortunately, the best laid plans often go awry, and there is no fairy tale ending for George. This is a story of hopes, dreams, violence, greed, and betrayal.
Well directed by the late Ted Demme, the film is compelling and absorbing as it recounts Jung's incredible odyssey in the drug trade, tracking the rise of the cocaine industry in the United States, attendant with all its violence. All in all, Jung is a likable guy who has bitten off more than he can chew, with ultimately dire results. His is a search for the American Dream, a dream that forever remains elusive.
Ray Liotta is terrific in the role of George's father, Fred, a sensitive and devoted everyman married to a hard, selfish woman, Ermine Jung (Rachel Griffiths), a woman who lacks all motherly instincts. Jordi Molla is excellent in the role of Diego, George's entre into the world of high stakes, cocaine dealing, and Cliff Curtis is excellent as Escobar, the Columbian drug cartel's main man.
This is the story about a young man who, faced with choices in his life, made the wrong ones and lived to regret it. Depp captures the pathos of Jung's wasted life. This is a vibrant, informative, and entertaining film.
Director: Ted Demme
Year of Release: 2001

Character to watch: Johnny Depp as George Jung.
Journal your answers to the following questions after you watch the movie.
How does this particular character's journey compare with yours?
Did the character develop certain characteristics during the movie that you have or that you would like to have? If so, what are those characteristics?
What obstacles did this character face? What was his or her biggest challenge?
What would you have done differently if you had been in the same position as the character?
Is this character the type of person you would be friends with? Why or why not?