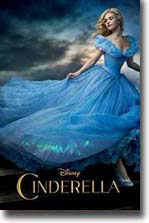 The story of Cinderella can be traced back to early Egypt, China, France, Germany and many other countries from around the world. The most well-known versions were written by Charles Perrault, Cendrillon, and by the Brothers Grimm, Aschenputtel. There have been countless film, television and stage adaptations of the iconic story, but the most well-known adaptation is Walt Disney's 1950 animated film.
I first fell in love with Walt Disney's animated film when I was just a child. It was one of first Disney films that I ever saw as a child. I can still remember being captivated by the story and singing along with the songs. It was as though a spell had been cast upon me, but the magic never wore off at midnight. There were no words to describe the level of excitement I had when I first found out that Disney was developing a live-action film of the timeless story.
I had the opportunity to attend an advanced digital screening of the live-action version of Walt Disney's most beloved animated film, Cinderella. What I enjoyed most about the latest "animation to live-action" treatment, is that it's a relatively straightforward telling of the classic story. While Alice in Wonderland and Maleficent were unnecessary dark and edgy re-imaginings of their animated predecessors, Cinderella is retold respectfully and refreshingly for the new generation.
Lily James is perfect as Cinderella, bringing a sweetness and innocence to the character that is at once sympathetic, and yet always bold and determined. Cate Blanchett is equally wonderful as Lady Tremaine, every bit as mean and vile as a Disney villain should be, while clearly hiding some pain of her own.
The production and costume design is stunning. The soundtrack by Patrick Doyle is very beautiful, as well. It is difficult not to get at least a few butterflies when the music swells and Cinderella's dress turns to a ravishing gown.
The entire movie was a beautiful masterpiece of story-telling, acting, music, sets, costumes, and old-fashioned fantasy and charm. Enough to make any true Disney fan at heart to smile and say, "Now that's the story I loved."
Director: Kenneth Branagh
Year of Release: 2015

Character to watch: Cate Blanchett as the Stepmother.
Journal your answers to the following questions after you watch the movie.
How does this particular character's journey compare with yours?
Did the character develop certain characteristics during the movie that you have or that you would like to have? If so, what are those characteristics?
What obstacles did this character face? What was his or her biggest challenge?
What would you have done differently if you had been in the same position as the character?
Is this character the type of person you would be friends with? Why or why not?