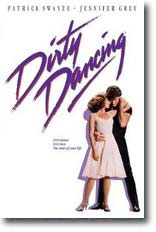 In Dirty Dancing, Jennifer Grey stars as Frances "Baby" Houseman, a girl who goes on vacation to the Catskills with her father, mother and sister in the summer of 1963. She meets the handsome dance instructor Johnny Castle (Patrick Swayze), who works at the lodge where they're staying, and is smitten with him. When she volunteers to fill in for Johnny's dance partner, Baby experiences love and life firsthand from the free-spirited Johnny.
It is hard not to get swept up into the nostalgic heat and sentiment of this unabashedly, and well-done, teen romance. It is, by turns, sexy, funny, melodramatic, jamming (what with that soundtrack chock full of some of the best pop hits of the 60s mixed with a few great new songs) and campy.
Yet the overriding feeling of melancholy and wistfulness, portrayed with real talent by Grey, as the perfect Baby, transforms this movie into something lasting, something to really love.
Cynthia Rhodes is absolutely riveting in the second female lead; she is a spectacular dancer and electrifying whenever she is on the screen. The aching feeling of first true love/lust/whatever, here directed at hunky Swayze, who is by the way an excellent dancer, comes to full flower at a Poconos resort.
As all manner of soapy subplots move through their predictable paces, we are treated to the transformation of our young heroine and any number of delightful musical numbers, capped off by the irresistably romantic Time Of My Life — that feeling of moving through a romance that has somehow changed your life is captured with a rare sweetness, and it stays with you.
Director:  Emile Ardolino
Year of Release: 1987

Character to watch: Jennifer Grey stars as Frances "Baby" Houseman.
Journal your answers to the following questions after you watch the movie.
How does this particular character's journey compare with yours?
Did the character develop certain characteristics during the movie that you have or that you would like to have? If so, what are those characteristics?
What obstacles did this character face? What was his or her biggest challenge?
What would you have done differently if you had been in the same position as the character?
Is this character the type of person you would be friends with? Why or why not?