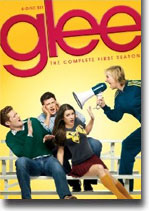 It was a choral rendition of Journey's "Don't Stop Believing" that first put Glee on the map, the thrilling end to an intriguing pilot episode. After the full season began airing that fall, Glee became the most talked about show on TV, a musical-comedy-drama of colorful characters and soaring production numbers.
Will Schuester (Matthew Morrison) is a teacher at an Ohio high school who decides to coach the glee club (or show choir) that he belonged to when he was a student.The initial members are a ragtag bunch of social outcasts: born-for-Broadway diva Rachel (Leah Michele), big-voiced Mercedes (Amber Riley), wheelchair-bound Artie (Kevin McHale), stuttering goth girl Tina (Jenn Ushkowitz), and closeted gay Kurt (Chris Colfer).
Things get interesting when the club starts to prepare for the sectional competition and manages to add some of the school's popular kids: quarterback Finn (Cory Monteith), his bullying teammate Puck (Mark Salling), and cheerleaders Quinn (Dianna Agron), Santana (Naya Rivera), and Brittany (Heather Morris), the final three planted as spies by Schuester's rival, internationally acclaimed cheerleading coach Sue (Jane Lynch).
Meanwhile, a triangle develops among Will, his wife (Jessalyn Gilsig), and the school's obsessive-compulsive guidance counselor, Emma (Jayma Mays). Other relationships get tangled, faces are slushied, and Sue plots the club's destruction while tossing out plenty of zingers. (Note that parental discretion is advised due to some mature themes.)
Through the course of its initial 13 episodes and another 9 that aired in the spring of 2010, Glee transfixed its audiences with its offbeat combination of humor and drama and its musical numbers, ranging from Broadway to classic rock to rap, or even merging them together in the show's famous "mash-ups." Michele and Morrison, both with Broadway résumés, get the biggest credits (check Michele's roof-raising "Don't Rain on My Parade" or her "Defying Gravity" duel with Colfer), but the whole cast sings and dances with skill and heart.
It didn't take long for entertainment powerhouses of all stripes to take an interest in Glee, either as contributors (such as Madonna, who lent her music to a full episode) or as guest stars. Broadway star Kristin Chenoweth makes numerous appearances as glee-club alumna April Rhodes (none better than her duet with Morrison of "One Less Bell to Answer" and "A House Is Not a Home"), and in the season's best episode, "Dream" (directed by Joss Whedon), Neil Patrick Harris and Idina Menzel (Chenoweth's Wicked costar) sing terrific duets with Morrison and Michele, respectively. Other guest stars, to often-humorous effect, include Josh Groban, Molly Shannon, Eve, and Olivia Newton-John.
At the end of the season, well-deserved Emmy wins went to director-creator Ryan Murphy, Lynch, and Harris, and Morrison, Michele, Colfer, and Chenoweth also earned nominations. The writing is well crafted and the characters, though somewhat stylized, are believable. The last couple shows seemed to lose a step and allowed the music to become more important that the storyline. They have broadened the focus, allowing the supporting cast to do more solo work and shine more in the singing department. We finally have a show that combines comedy, drama, musical features, and good writing.

Character to watch: Matthew Morrison as Will Schuester.
Journal your answers to the following questions after you watch the series.
How does this particular character's journey compare with yours?
Did the character develop certain characteristics during the movie that you have or that you would like to have? If so, what are those characteristics?
What obstacles did this character face? What was his or her biggest challenge?
What would you have done differently if you had been in the same position as the character?
Is this character the type of person you would be friends with? Why or why not?