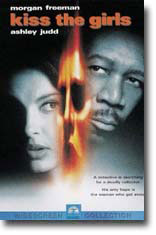 Eight women are kidnapped and all are beautiful and talented. All in danger of having their lives cut cruelly short if police detective Alex Cross (Morgan Freeman) and key witness Kate Mctiernan (Ashley Judd) can't locate the elusive "collector" who calls himself Casanova. From the Deep South to the California coast and back, the hunt is on in this provocative race-against-time suspense based on the best-selling novel by James Patterson.
Judd plays resourceful, strong-willed Mctiernan. She's the lone escapee from Casanova's hidden lair and she's determined to rescue the fellow captives she left behind. Freeman is Detective Cross, a master at solving the unsolvable. But there's more than his reputation at stake: this time one of the victims is his niece in this taut, riveting thriller.
The Durham Police Department has a problem. Pretty college co-eds are disappearing from area college campuses. Additionally a couple of the women have been located in the wilds tied to a tree, exposed to the elements and wild animals. A note was found at each crime scene that said "Cassanova". Whether the remaining captives are alive or dead the investigators can only speculate.
The latest victim happens to be the niece of Dr. Alex Cross (Morgan Freeman) a well reputed forensic detective and author from Washington. He has assured his frantic sister in law that he will do everything in his power to find out what happened to Naomi.
When Cross arrives in Durham he gets a tepid response from the authorities, being a famous big city cop nosing around in their business. But since this is family, this is personal and Cross will not be deterred. He discovers that there are six other victims, two of which have been found dead and that there is already a task force investigating.
Director:  Gary Fleder
Year of Release: 1997

Character to watch: Ashley Judd as Kate McTiernan.
Journal your answers to the following questions after you watch the movie.
How does this particular character's journey compare with yours?
Did the character develop certain characteristics during the movie that you have or that you would like to have? If so, what are those characteristics?
What obstacles did this character face? What was his or her biggest challenge?
What would you have done differently if you had been in the same position as the character?
Is this character the type of person you would be friends with? Why or why not?