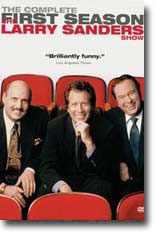 The Larry Sanders Show is perhaps the most realistic and funniest television series ever written about show business. In this case, the "business" is producing a late night talk show hosted by the amiable, humorous Larry Sanders, a Johnny Carson-like character deftly portrayed by Garry Shandling. Shandling is also the creator and frequent writer of this series.This classy television series shrewdly examines the behind-the-scenes and in front of the camera workings of a nightly television show. "The Larry Sanders Show" is a compendium of network executives, producers, actors, and agents whose enlarged yet fragile egos often clash with each other. The results are caustic and hilarious.
Join Larry and his guests Carol Burnett, Robin Williams, Dana Carvey, Peter Falk, Mimi Rogers, Billy Crystal, Catherine O'Hara, Richard Simmons, and Bob Saget for one of the '90s best and brightest comedies. Go backstage and meet the people who toil on "The Larry Sanders Show," the quintessential late-night talk show.
Series creator Garry Shandling's Larry is so self-centered and neurotic, he makes Alan Brady look like Mister Rogers. Emmy winner Rip Torn is Artie, Larry's "always ready to jump in" pit bull of a producer, with Jeffrey Tambor as sidekick Hank Kingsley, former cruise director and "poor deluded bastard."
The flawless ensemble also includes Penny Johnson as Larry's indispensable secretary Beverly, Janeane Garofalo at her deadpan best as talent booker Paula, and Jeremy Piven as cocksure head writer Jerry. With its unflinching portrayals of ego clashes, petty jealousies, and office politics and paranoia, this hyper-realistic series produced more hilariously awkward and squirm-inducing moments than The King of Comedy.
But the boundless pleasures of The Larry Sanders Show make each episode ripe for repeat viewings (in which you can catch and savor the nuances of the performances or the throw-away brilliance of the dialogue). Adding to the fun and verisimilitude are the celebrity guest stars who tweak their personas.
There's a less-than-gracious Burnett in the episode "Spiders," a duplicitous Carvey in "The Guest Host," and an insecure Williams in "Hank's Contract." The first disc contains an interview of Shandling conducted by Pulitzer Prize-winning television critic Tom Shales. No flipping, lest you miss the great "Rip Torn story" on how the formidable actor was cast.

Character to watch: Garry Shandling as Larry Sanders.
Journal your answers to the following questions after you watch the series.
How does this particular character's journey compare with yours?
Did the character develop certain characteristics during the movie that you have or that you would like to have? If so, what are those characteristics?
What obstacles did this character face? What was his or her biggest challenge?
What would you have done differently if you had been in the same position as the character?
Is this character the type of person you would be friends with? Why or why not?