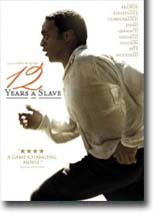 In 12 Years a Slave, Solomon Northup (Chiwetel Ejiofor) is a free man living in New York until he's kidnapped and sold in Louisiana as a slave. He's owned by masters relatively kind (Benedict Cumberbatch) and harrowingly brutal (Michael Fassbender), but even under the best conditions, the movie never loses sight of Northup's condition as property, that his well-being and very life are at the whim of his owners.
There's no hype here, nor any hemming or hawing; each scene is captured simply but vividly, letting the cruel facts of life in the pre-Civil War era speak for themselves. The movie's power lies in the unsettling details and psychological contortions slavery inflicts on everyone involved, black and white.
Performances are fantastic throughout, including supporting work from Paul Dano, Paul Giamatti, Sarah Paulson, Lupita Nyong'o, Brad Pitt, and particularly Alfre Woodard as a slave who's gained a position of comfort and clings to it with haughty entitlement. But it's Ejiofor who anchors the movie; his mix of intelligence and fundamental decency carries 12 Years a Slave to a moving conclusion.
Director: Steve McQueen
Year of Release: 2013

Character to watch: Chiwetel Ejiofor as Solomon Northup.
Journal your answers to the following questions after you watch the movie.
How does this particular character's journey compare with yours?
Did the character develop certain characteristics during the movie that you have or that you would like to have? If so, what are those characteristics?
What obstacles did this character face? What was his or her biggest challenge?
What would you have done differently if you had been in the same position as the character?
Is this character the type of person you would be friends with? Why or why not?