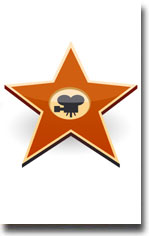 1. Her –

Her is an unusual movie with some interesting observations about the way in which people are becoming more reliant on technology. It's set in Los Angeles in the not too distant future, and tells the story of Theodore Twombly (Joaquin Phoenix). Unfortunately, Theodore's own relationship is failing and he is soon to be divorced from his wife, Catherine (Rooney Mara). When he buys a new computer operating system, his life changes dramatically. The program adapts to his personality and needs, and evolves at a tremendous rate. This screen persona names 'herself' Samantha, and is voiced by Scarlett Johansson.
Character to watch: Joaquin Phoenix as Theodore Twombly.
Director: Spike Jonze
2. The Wolf Of Wall Street –
Based on the true story of Jordan Belfort, from his rise to a wealthy stockbroker living the high life to his fall involving crime, corruption and the federal government. Revered filmmaker Martin Scorsese directs the story of New York stockbroker Jordan Belfort (Leonardo DiCaprio). From the American dream to corporate greed, Belfort goes from penny stocks and righteousness to IPOs and a life of corruption in the late 80s. Excess success and affluence in his early twenties as founder of the brokerage firm Stratton Oakmont warranted Belfort the title The Wolf of Wall Street. Money. Power. Women. Drugs. Temptations were for the taking and the threat of authority was irrelevant. For Jordan and his wolf pack, modesty was quickly deemed overrated and more was never enough.
Director:  Martin Scorsese
Character to watch: Leonardo DiCaprio as Jordan Belfort.
3. Dallas Buyer's Club –

Matthew McConaughey gives the performance of his career in this uplifting and powerful film inspired by true events. Texas cowboy Ron Woodroof (McConaughey) sees his free-wheeling life overturned when he's diagnosed as HIV-positive and given 30 days to live. Determined to survive, Woodroof decides to take matters in his own hands by tracking down alternative treatments from all over the world by means both legal and illegal. After finding an unlikely ally in Rayon (Jared Leto), he establishes a hugely successful "buyers' club" and unites a band of outcasts in a struggle for dignity and acceptance that inspires in ways no one could have imagined.
Director: Jean-Marc Vallée
Character to watch: Jared Leto as Rayon.
4. American Hustle –

A fictional film set in the alluring world of one of the most stunning scandals to rock our nation, American Hustle tells the story of brilliant con man Irving Rosenfeld (Christian Bale), who along with his equally cunning and seductive British partner Sydney Prosser (Amy Adams) is forced to work for a wild FBI agent Richie DiMaso (Bradley Cooper). DiMaso pushes them into a world of Jersey powerbrokers and mafia that's as dangerous as it is enchanting. Jeremy Renner is Carmine Polito, the passionate, volatile, New Jersey political operator caught between the con-artists and Feds. Irving's unpredictable wife Rosalyn (Jennifer Lawrence) could be the one to pull the thread that brings the entire world crashing down.
Director: David O. Russell
Character to watch: Christian Bale as Irving Rosenfeld.
5. Blue Jasmine –
If you want to see this year's master class in screen acting, you need to watch Cate Blanchett's mesmerizing performance as Jasmine French, a delusional Park Avenue socialite wife in Woody Allen's 46th directorial effort, a sly, bicoastal update of Tennessee Williams' classic A Streetcar Named Desire. As the film opens, her impeccably dressed character has hit rock bottom after her financial wizard of a husband is arrested and her assets are liquidated. In the throes of a nervous breakdown, she arrives in San Francisco and moves in with her kind-hearted sister Ginger who lives a modest, blue-collar life in a tiny apartment on the edge of the Mission – on South Van Ness near 14th Street to be exact – with her two hyperactive sons.
Director: Woody Allen
Character to watch: Cate Blanchett as Jasmine French.
6. Gravity –
Dr. Ryan Stone (Sandra Bullock) is a brilliant medical engineer on her first shuttle mission, with veteran astronaut Matt Kowalsky (George Clooney) in command of his last flight before retiring. But on a seemingly routine spacewalk, disaster strikes. The shuttle is destroyed, leaving Stone and Kowalsky completely alone – tethered to nothing but each other and spiraling out into the blackness.
Director: Alfonso Cuaron
Character to watch: Sandra Bullock as Dr. Ryan Stone.
7. 12 Years a Slave –

In the years before the Civil War, Solomon Northup (Chiwetel Ejiofor), a free black man from upstate New York, is kidnapped and sold into slavery in the South. Subjected to the cruelty of one malevolent owner (Michael Fassbender), he also finds unexpected kindness from another, as he struggles continually to survive and maintain some of his dignity. Then in the 12th year of the disheartening ordeal, a chance meeting with an abolitionist from Canada changes Solomon's life forever.
Director: Steve McQueen
Character to watch: Chiwetel Ejiofor as Solomon Northup.
8. All Is Lost –

Deep into a solo voyage in the Indian Ocean, an unnamed man (Robert Redford) wakes to find his 39-foot yacht taking on water after a collision with a shipping container left floating on the high seas. With his navigation equipment and radio disabled, the man sails unknowingly into the path of a violent storm. Despite his success in patching the breached hull, his mariner's intuition and a strength that belies his age, the man barely survives the tempest.
Director: J.C. Chandor
Character to watch: Robert Redford as a man at sea.
9. Nebraska –
Nebraska is a father and son road trip, from Billings, Montana to Lincoln, Nebraska that gets waylaid at a small town in central Nebraska, where the father grew up and has scores to settle. Told with deadpan humor and a unique visual style, it's ultimately the story of a son trying to get through to a father he doesn't understand.
Director: Alexander Payne
Character to watch: Bruce Dern as Woody Grant.
10. Captain Phillips –
Director Paul Greengrass collaboration with a rarely better Tom Hanks, shows the filmmaker further refining his style, telling a true-life story of heroism with an immediacy that puts most movies based on fact out to staid pasture. Even if you know the historical record, there's no way to rest easy. Based on the book A Captain's Duty: Somali Pirates, Navy SEALS, and Dangerous Days at Sea, the story follows Cpt. Rich Phillips (Hanks), a no-nonsense family man taken beyond the brink when his cargo ship's travel around the African Horn is disrupted by four pirates.
Director: Paul Greengrass
Character to watch: Tom Hanks as Captain Phillips.