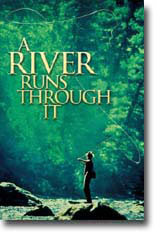 Director Robert Redford captures the majesty of the Montana wilderness and the strength of the American family in this acclaimed adaptation of Norman Maclean's classic memoir. Craig Sheffer stars as the young Norman, and Brad Pitt stars as his brother Paul, an irresistible daredevil driven to challenge the world. Growing up, both boys rebel against their stern minister father. While Norman channels his rebellion into writing, Paul descends a slippery path to self-destruction.
A lyrical and nostalgic film, A River Runs Through It chronicles two brothers coming of age in early-20th-century Missoula, Montana, under the stern tutelage of their minister father (Tom Skerritt). Their father instills in them a love of fly fishing, which for one brother, Paul, becomes a lifelong passion even as he sets out to become a newspaperman and struggles with his addiction to gambling.
The other brother, Norman, dreams of exploring the world outside of Missoula as he falls in love with a local girl (Emily Lloyd) who also dreams of broader horizons. Soon one brother must discover the true meaning of family loyalty when the other finds himself in deeper trouble than ever before. Redford, who also narrates the film, does a masterful job in re-creating the period and in drawing out affecting performances from his young cast.
While they were united by their love for their native land and its rivers and fish, the brothers couldn't have been any more different on a personal level. This is also a story of brotherly and parental love and loss, of the inability to communicate, and of dreams and aspirations nurtured and fatally disappointed.
While disciplined, sensible Norman left Montana for a six-year college education at Dartmouth and ultimately – after having temporarily returned home and taken a bride – to assume a teaching position at the University of Chicago, rebellious Paul knew that he would never leave his home state and "the fish he had not yet caught;" and opted for a journalist's life instead. But ultimately he wasn't able to fight the demons that possessed him; and his parents and brother had to stand by and helplessly watch him embark on a path of self-destruction.
Director: Robert Redford
Year of Release: 1992

Character to watch: Craig Sheffer as Norman Maclean.
Journal your answers to the following questions after you watch the movie.
How does this particular character's journey compare with yours?
Did the character develop certain characteristics during the movie that you have or that you would like to have? If so, what are those characteristics?
What obstacles did this character face? What was his or her biggest challenge?
What would you have done differently if you had been in the same position as the character?
Is this character the type of person you would be friends with? Why or why not?