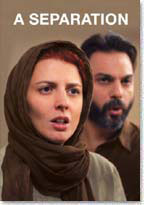 A Separation is about the struggles within a family. Nader (Peyman Moaadi) and Simin (Leila Hatami) argue about whether they should live abroad. Simin prefers to live abroad to provide better opportunities for their only daughter, 11-year-old Termeh (Sarina Farhadi). However, Nader refuses to go because he thinks he must stay in Iran and take care of his father (Ali-Asghar Shahbazi), who suffers from Alzheimer's disease. However, Simin is determined to get a divorce and leave the country with her daughter.
Nader and Simin been married for 14 years and live in Tehran. The family belongs to the urban middle-class and the couple is on the verge of separation. Simin wants to leave the country with her husband and daughter, as she does not want Termeh to grow up under the prevailing conditions. Nader wants to stay for his ailing father.
On the recommendation of his wife, Nader hires Razieh (Sareh Bayat), a young, deeply religious woman from a poor suburb, to take care of his father while he works at a bank. Razieh soon becomes overwhelmed by taking care of Nader's father, which is physically and emotionally demanding.
One day, Nader and Termeh return to discover Nader's father lying unconscious on the floor in his bedroom, with one of his arms tied to the bed. Upset, Nader shoves Razieh out of the apartment and she falls in the stairwell and suffers a miscarriage. A court is assigned to determine the cause of the miscarriage
Later, at the family court, Nader and Simin have filed for a divorce. They are in mourning clothes,  an indication his father has died. The judge makes their separation permanent, and asks Termeh about which parent she chooses to live with. She tearfully says that she has made a decision, but asks that the judge tell her parents to wait outside in the hallway before she tells him. Nader and Simin wait in the hallway, separated by a glass partition.
Director: Asghar Farhadi
Year of Release: 2011

Character to watch: Sarina Farhadi as Termeh.
Journal your answers to the following questions after you watch the movie.
How does this particular character's journey compare with yours?
Did the character develop certain characteristics during the movie that you have or that you would like to have? If so, what are those characteristics?
What obstacles did this character face? What was his or her biggest challenge?
What would you have done differently if you had been in the same position as the character?
Is this character the type of person you would be friends with? Why or why not?