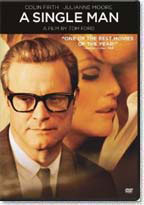 Taking place over the course of a single day, November 30, 1962, a month after the Cuban missile crisis, A Single Man is the story of George Falconer (Colin Firth), a middle-aged English college professor living in Los Angeles. George dreams that he encounters the body of his longtime partner, Jim (Matthew Goode), at the scene of the car accident that took Jim's life eight months earlier. After awakening,
George delivers a voiceover discussing the pain and depression he has endured since Jim's death and his intention to commit suicide that evening. George receives a phone call from his dearest friend, Charley (Julianne Moore), who projects lightheartedness despite her being equally miserable. George goes about his day putting his affairs in order and focusing on the beauty of isolated events, believing he is seeing things for the last time.
Throughout, there are flashbacks to George and Jim's sixteen-year-long relationship. During the school day George comes into contact with a student, Kenny Potter (Nicholas Hoult), who shows interest in George and disregards conventional boundaries of student-professor discussion. George also forms an unexpected connection with a Spanish male prostitute, Carlos (Jon Kortajarena).
That evening George meets Charley for dinner. Though they initially reminisce and amuse themselves by dancing, Charley's desire for a deeper relationship with George and her failure to understand his relationship with Jim angers George.
This film marks the directorial debut of Tom Ford, the fashion designer and former creative director of the Gucci house. It would be brilliant even if it had been his twentieth film. It's a story of astonishing observation and poignancy, where beauty is found not only in the form of a face or the arc of an eyebrow, but also in the cold bleakness of a winter road, where pain and death give way to encounters of surprising tenderness.
It's a masterpiece of character development and performance; every one of George's onscreen appearances, for example, is an opportunity for Ford to reveal him to us, which is to say we never see him in an empty or extraneous moment. The dialogue is a perfect blend of insight, contemplation, and wit – one of those rare instances where every word is carefully placed yet strung together as naturally as regular conversation.
Director: Tom Ford
Year of Release: 2009

Character to watch: Colin Firth as George.
Journal your answers to the following questions after you watch the movie.
How does this particular character's journey compare with yours?
Did the character develop certain characteristics during the movie that you have or that you would like to have? If so, what are those characteristics?
What obstacles did this character face? What was his or her biggest challenge?
What would you have done differently if you had been in the same position as the character?
Is this character the type of person you would be friends with? Why or why not?