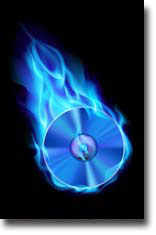 Blu-ray (not Blue-ray) also known as Blu-ray Disc (BD), is the name of a new optical disc format jointly developed by the Blu-ray Disc Association (BDA), a group of the world's leading consumer electronics, personal computer and media manufacturers including Apple, Dell, Hitachi, HP, JVC, LG, Mitsubishi, Panasonic, Pioneer, Philips, Samsung, Sharp, Sony, TDK and Thomson.
The Blu-ray format was developed to enable recording, rewriting and playback of high-definition video (HD), as well as storing large amounts of data. The format offers more than five times the storage capacity of traditional DVDs and can hold up to 25GB on a single-layer disc and 50GB on a dual-layer disc. This extra capacity combined with the use of advanced video and audio codecs will offer consumers an unprecedented HD experience.
While current optical disc technologies such as DVD, DVD±R, DVD±RW, and DVD-RAM rely on a red laser to read and write data, the new format uses a blue-violet laser instead, hence the name Blu-ray. Despite the different type of lasers used, Blu-ray products can easily be made backwards compatible with CDs and DVDs through the use of a BD/DVD/CD compatible optical pickup unit. The benefit of using a blue-violet laser (405nm) is that it has a shorter wavelength than a red laser (650nm), which makes it possible to focus the laser spot with even greater precision. This allows data to be packed more tightly and stored in less space, so it's possible to fit more data on the disc even though it's the same size as a CD/DVD. This together with the change of numerical aperture to 0.85 is what enables Blu-ray Discs to hold 25GB/50GB. Recent development by Pioneer has pushed the storage capacity to 500GB on a single disc by using 20 layers.
Blu-ray is currently supported by about 200 of the world's leading consumer electronics, personal computer, recording media, video game and music companies. The format also has support from all Hollywood studios and countless smaller studios as a successor to today's DVD format. Many studios have also announced that they will begin releasing new feature films on Blu-ray Disc day-and-date with DVD, as well as a continuous slate of catalog titles every month. For more information about Blu-ray movies, check out our Blu-ray movies and Blu-ray reviews section which offers information about new and upcoming Blu-ray releases, as well as what movies are currently available in the Blu-ray format.
If you've ever seen high-definition (HD) video on an HDTV, then you know just how incredibly sharp the picture is and how vivid the colors are. In fact, HD offers five times the amount of detail compared to standard-definition (SD). The problem with today's DVDs is that they only support SD and don't have the necessary storage capacity to satisfy the needs of HD. That's where Blu-ray comes in, it offers up to 50GB of storage capacity and enables playback, recording and rewriting of HD in all of the HD resolutions including 1080p. The format also supports high-definition audio formats and lossless audio.
In addition to the greater video and audio quality, the extra storage capacity also means there will be plenty of room for additional content and special features. This combined with the new BD-J interactivity layer adopted by Blu-ray will bring the menus, graphics and special features to a whole new level. For example, you will be able to bring up the menu system as an overlay without stopping the movie, and you could have the director of the movie on the screen explaining the shooting of a scene while the scene is playing in the background. The advanced interactivity combined with the networking features of Blu-ray will also allow content producers to support new innovative features such as downloading extras, updating content via the web, and watching live broadcasts of special events.
Thanks to the greatly enhanced HD video and audio quality as well as the advanced interactivity and networking features, Blu-ray represents a huge leap forward in the DVD viewing experience and will offer consumers an unprecedented HD experience.
Advantages of Blu-ray
Huge storage capacity. Although Blu-ray can't quite fit an entire series of HD-quality material on one disc, it could potentially fit an entire series of standard DVD quality stuff on one. That's pretty good, considering the storage savings alone.
Mandatory Managed Copy. If you haven't heard of Digital Rights Management (DRM) before, well, then this is a really good time to be check it out. DRM is the copyright protection scheme the media industry uses to prevent piracy, and the Blu-ray's technology in this realm is actually quite exciting. The possibility exists for users to copy the content of a disc a limited number of times, similar to Apple's iTunes system.
Backwards compatibility. The Blu-ray Disc Association is encouraging manufacturers to make the players fully backwards compatible. That will allow users to both read and write on CDs, DVDs, and, obviously, Blu-ray discs.
Quality support Sony and Philips might be the strongest backers of Blu-ray, but other major corporations have announced future plans to support the technology. Some of these include Apple, Dell and Panasonic.
Disvantages of Blu-ray
HD versus capacity. Like a sports figure up gainst an opponent who was once a good friend, this match is personal. Although Blu-ray is capable of anywhere from 50 GB of storage to 200 GB, as it stands the average Blu-ray disc can't hold much more than four or five hours of high definition content. That means you won't be watching the entire Buffy the Vampire series on one disc, at least not in HD.
Movie support. At this point, Blu-ray titles are only available on a limited number of movies. When initially released, Blu-ray attempted to court consumers with big pockets by presenting them with movues that weren't half bad, but when seen on a Blu-ray player looked like an entirely different movie. Of course, Blu-ray still doesn't make it a bad movie good.
The competition. Remember Betamax? Probably not. That's because the VCR eradicated the superior technology from Beta long before it could make a significant impact on mainstream movie viewers. That could potentially happen to the Blu-ray if more people buy into the HD-DVD player; it gives a high definition picture so close to that of a device twice its cost that consumers may just decide to save their money.
As far as Cinema Therapy, Blu-ray does provide a more real experience with an increased amount of detail. This can help the viewer to feel more connected to the characters and may provide a deeper sense of character analysis for some people. If I had to predict, I would say that Blu-ray is going to be around for a long time and will become the format of choice for those who want an enhanced home theater experience.