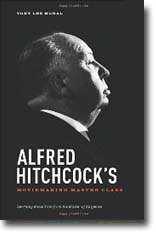 Alfred Hitchcock is one of the most revered filmmakers of the 20th century. Not only was he the "Master of Suspense," he was also an innovator of storyboarding, directing, framing, editing, and marketing. Hitchcock regularly engaged with his audiences and gave lectures at film institutes, universities, and film schools across the country.
Now in this Movie Making Master Class, Hitchcock author and aficionado Tony Lee Moral takes you through the process of making a motion picture, Hitchcock-style.The author, Tony Lee Moral, is a writer and award winning documentary film maker who has written three books on Alfred Hitchcock: Alfred Hitchcock's Movie Making Masterclass, The Making of Hitchcock's The Birds and Hitchcock and the Making of Marnie. He has produced and directed over a 100 hours of television for major broadcasters in the US and the UK, including behind the scenes documentaries on films and television.
As great as Hitchcock was, though, he is linked to "suspense" or "horror" films. Romantic comedies were not his forte – though his films could be filled with humor. When I tell the wife we're going to watch a Hitchcock film she'll sigh and wander off to do something else. But Hitchcock was far more than a "suspense" film director or a "horror" film director. Sure "Psycho" and "The Birds" pop to mind and are synonymous with Hitchcock, and rightfully so, but to just say that he did shock horror films does a disservice to everything he has made.
Broken down in a logical format, Moral's book explores all the aspects of film-making (writing, casting, working with actors, lighting, editing, even promotion) and how both Hitchcock approached them, dealt with them, hired the right people to accomplish what he wanted – or took it upon himself to do it. This is, truly, a master class of all aspects of film-making.
What sets the book apart, beyond that, are Hitchcock's own words. Filled throughout the book are quotes by Hitchcock on all these various parts of the film-making process. It truly is as if you're sitting down with the master himself. Sprinkled, too, are many quotes from the various directors working today and how they have been influenced by Hitchcock and his approach to film-making and storytelling.
Author: Tony Lee Moral
Year of Release: 2013