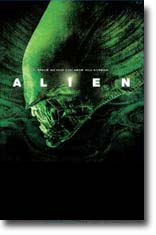 A landmark of science fiction and horror, Alien is a stylishly malevolent alternative to George Lucas's space fantasy. Partially inspired by 1958's It! The Terror from Beyond Space, this instant classic set a tone of its own, offering richly detailed sets, ominous atmosphere, relentless suspense, and a flawless ensemble cast as the crew of the space freighter Nostromo, who fall prey to a vicious creature (designed by Swiss artist H.R. Giger) that had gestated inside one of the ill-fated crew members.
In a star-making role, Sigourney Weaver excels as sole survivor Ripley, becoming the screen's most popular heroine. To measure the film's success, one need only recall the many images that have been burned into our collective psyche, including the "facehugger," the "chestburster," and Ripley's climactic encounter with the full-grown monster. Impeccably directed by Ridley Scott, Alien is one of the cinema's most unforgettable nightmares.
Although never clearly defined as to when, it is the future and America has expanded Earth's atmosphere and is sending mining ships out there. The Nostromo, a civilian mining vessel is making the return trip home from an expedition and the crew is in cryo-freeze for the trip home but "Mother" the ships computer wakes them up to investigate what appears to be an alien SOS message.
As the crew goes through the necessary steps to investigate the signal on a small planetoid, the tension builds right to the moment that Kane (John Hurt) is deep within the bowels of the alien ship and is leaning over what appears to be an egg. What follows from there is most certainly one of the most intense Sci-Fi thrillers ever to have been brought to the silver screen.
Director:  Ridley Scott
Year of Release: 1979

Character to watch: Sigourney Weaver as Ripley.
Journal your answers to the following questions after you watch the movie.
How does this particular character's journey compare with yours?
Did the character develop certain characteristics during the movie that you have or that you would like to have? If so, what are those characteristics?
What obstacles did this character face? What was his or her biggest challenge?
What would you have done differently if you had been in the same position as the character?
Is this character the type of person you would be friends with? Why or why not?