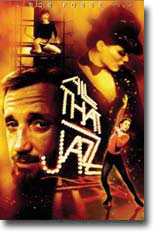 Choreographer-turned-director Bob Fosse turns the camera on himself in this nervy, sometimes unnerving 1979 feature, a nakedly autobiographical piece that veers from gritty drama to razzle-dazzle musical, allegory to satire. It's an indication of his bravura, and possibly his self-absorption, that Fosse (who also cowrote the script) literally opens alter ego Joe Gideon's heart in a key scene–an unflinching glimpse of cardiac surgery, shot during an actual open-heart procedure.
Roy Scheider makes a brave and largely successful leap out of his usual romantic lead roles to step into Gideon's dancing pumps, and supplies a plausible sketch of an extravagant, self-destructive, self-loathing creative dynamo, while Jessica Lange serves as a largely allegorical Muse, one of the various women that the philandering Gideon pursues (and usually abandons). Gideon's other romantic partners include Fosse's own protégé (and a major keeper of his choreographic style since his death), Ann Reinking, whose leggy grace is seductive both "onstage" and off.
Fosse/Gideon's collision course with mortality, as well as his priapic obsession with the opposite sex, may offer clues into the libidinal core of the choreographer's dynamic, sexualized style of dance, but musical aficionados will be forgiven for fast-forwarding to cut out the self-analysis and focus on the music, period. At its best–as in the knockout opening, scored to George Benson's strutting version of "On Broadway," which fuses music, dance, and dazzling camera work.
Scheider, in arguably his greatest role ever, portrays Joe Gideon, a work-obsessed Broadway choreographer and director existing on cancer sticks, booze, sex and uppers. Directed by the preeminent choreographer Bob Fosse, All That Jazz was purportedly semi-autobiographical.
Joe is struggling to put together a new dance production and, simultaneously, edit a behind-schedule film, all the while juggling the three principal women in his life: ex-wife, current significant other, and teenage daughter. Talk about stress! In periodic visual sidebars, we watch as Joe rationalizes his self-destructive behavior to a glamorous Angel of Death, coquettishly played by Jessica Lange.
The film's dance sequences, products of Bob Fosse's brilliance, and sets by Phillip Rosenberg and Tony Walton, are visual extravaganzas not to be missed. (Oscars were awarded for Art Direction and Set Decoration.) Perhaps the cleverest is the solo routine performed by the ex-wife character as she rehearses a number to be performed in Gideon's latest production, all the while debating with him the course of their failed relationship.
Director: Bob Fosse
Year of Release 1978

Character to watch: Roy Scheider as Joe Gideon.
Journal your answers to the following questions after you watch the movie.
How does this particular character's journey compare with yours?
Did the character develop certain characteristics during the movie that you have or that you would like to have? If so, what are those characteristics?
What obstacles did this character face? What was his or her biggest challenge?
What would you have done differently if you had been in the same position as the character?
Is this character the type of person you would be friends with? Why or why not?